'Veronica Mars' Brings Max Greenfield Back For Hulu Revival, Casts Patton Oswalt In New Role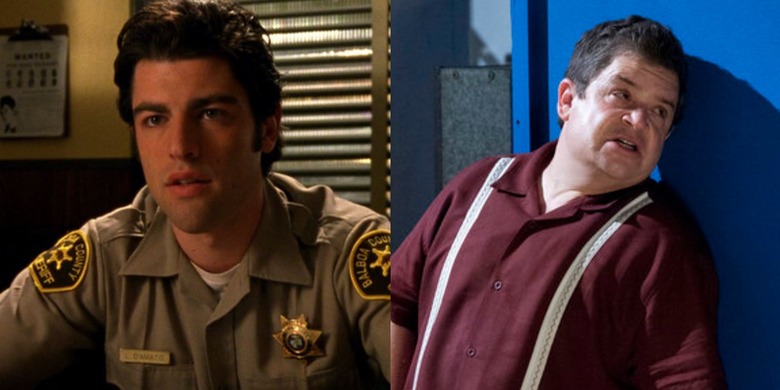 Some new and old faces are coming to Neptune, California. The Veronica Mars revival cast is shaping up nicely, with the upcoming Hulu series casting series vet Max Greenfield as the hunky sheriff's deputy Leo D'Amato well as series newcomer Patton Oswalt in a new role.
After making a brief cameo in the 2014 Veronica Mars movie, Max Greenfield finds himself back in Neptune's orbit again for the eight-episode Hulu revival series, Deadline reports. Greenfield will be joined by Patton Oswalt, who has been cast as a new character Penn Epner, described as being on the "wrong side of 40" for the "best pizza delivery guy in Neptune."
Greenfield may be best known for his role in New Girl now, but us Marshmallows will remember when he was the studly rookie sheriff's deputy who had a brief flirtation with Kristen Bell's teen detective Veronica and ended up one of her most reliable allies at the crooked sheriff's department through all three seasons. Now he's back for the Veronica Mars revival series as Deputy Leo — hopefully rocking more of that aw-shucks boy-next-door persona from the series, and not the Schmidt 2.0 we saw in the film. Basically, bring back that adorable lisp, Greenfield.
Meanwhile, Oswalt's character seems to be an affable and hapless supporting character who finds himself entangled in Veronica's investigation, presumably because of his "passion" for true crime, as a frequent poster on unsolved murder websites. It's unclear for now how this pizza delivery guy will get involved with Veronica's case solving a series of spring break murders, but it seems like a very Oswalt-style role that will cater to the actor's comedic talents and penchant for popping up in every cult genre series.
Greenfield and Oswalt join the recently cast iZombie's Dawnn Lewis as the Neptune police chief, as well as The Good Place's Kirby Howell-Baptiste as a nightclub owner in Neptune. Read the synopsis for the series, which hits Hulu sometime in 2019, below:
Spring breakers are getting murdered in Neptune, thereby decimating the seaside town's lifeblood tourist industry. After Mars Investigations is hired by the parents of one of the victims to find their son's killer, Veronica is drawn into an epic eight-episode mystery that pits the enclave's wealthy elites, who would rather put an end to the month-long bacchanalia, against a working class that relies on the cash influx that comes with being the West Coast's answer to Daytona Beach.
The Veronica Mars revival will see the return of Kristen Bell as the titular girl detective Veronica Mars, as well as series vets Enrico Colantoni (Keith), Jason Dohring (Logan), Percy Daggs III (Wallace Fennel), Francis Capra (Weevil), Ryan Hansen (Dick Casablancas), and David Starzyk (Richard Casablancas). Tina Majorino is rumored to make a return as fan-favorite Mac.