'Jonny Quest' Movie Recruits 'LEGO Batman Movie' Director Chris McKay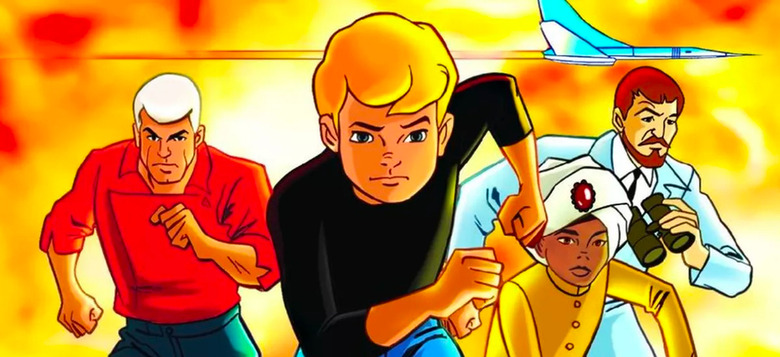 Jonny Quest is coming to the big screen from Warner Bros. and LEGO Batman Movie director Chris McKay. Robert Rodriguez was originally attached to helm the adaptation of the 1960s Hanna-Barbera cartoon, but now it's in McKay's hands. Earlier versions of the script were described as "Indiana Jones meets James Bond with a PG-13 rating," but that might have changed. More on the Jonny Quest movie below.The Wrap has the news regarding Chris McKay directing the Jonny Quest movie. Like the animated series, Jonny Quest will focus "on the adventurous boy hero Jonny Quest who travels with his scientist father, his adopted brother Hadji, and their former secret agent bodyguard, Race Bannon, around the world to solve world-threatening mysteries." Per The Wrap, the studio wants a big star to play Race Bannon.
A potential live-action Jonny Quest movie has been knocking around Hollywood since the 1990s. At one point, Superman director Richard Donnor was attached to helm an adaptation written by Monster Squad director Fred Dekker. The film never got off the ground. In 2009, word of a Jonny Quest movie started up again, with Zac Efron set to play Jonny and Dwayne "the Rock" Johnson as Race Bannon. Johnson confirmed this casting himself, but the movie never materialized after this initial announcement.
By 2015, Robert Rodriguez had taken over directing duties, penning a script with Terry Rossio. In 2016, a report revealed that Warner Bros. wanted to turn Rodriguez's Jonny Quest into their next big franchise, in line with Harry Potter. Per this report, the script for the first film took "inspiration from a few specific stories and elements in the original 1960s TV show...Race Bannon is a government agent similar to a cross between Indiana Jones and Jason Bourne, and this is his introduction to the Quest family. Jonny and Dr. Benton Quest have a nice subplot for their relationship, providing added dimension to Jonny's overall characterization and particularly his drive to explore and get into adventures against his father's wishes. And Hadji has an 'origin' that provides more detail to his background and lets him take a more active role in the main plot."
Eventually, Rodriguez left the project. Now, McKay is in charge. It's not clear if McKay will be working with this previous script, or a draft by Dan Mazeau, or something completely new. I suppose the question here is: can Jonny Quest work in a post-Venture Brothers world? As long as the film has fun with its material, I think so. Please, don't attempt to make a dark and gritty Jonny Quest movie, Warner Bros. – I beg you.