Now Stream This: 'You Were Never Really Here', 'It's A Wonderful Life', 'Children Of Men', 'Summer Of '84' And More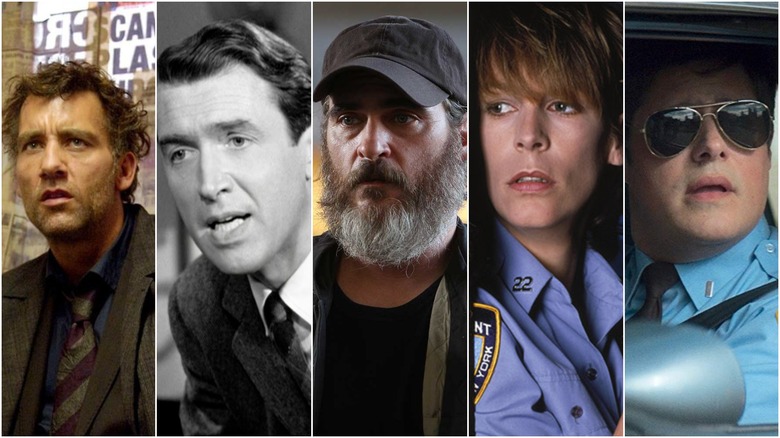 (Welcome to Now Stream This, a column dedicated to the best movies streaming on Netflix, Amazon, Hulu, and every other streaming service out there.) 
In this edition of Now Stream This, you'll find one of the best movies of 2018, a holiday classic that you can watch any time of the year, a prophetic sci-fi film, Jamie Lee Curtis as a rookie cop, an old violin, a kick-ass action movie, an '80s horror throwback, a true crime documentary, a tale of resurrection, and Liam Neeson wearing a kilt. What a line-up!
These are the best movies streaming right now. Let's get streaming!
The Best Movies Streaming Right Now
1. You Were Never Really Here
Now Streaming on Amazon Prime Video
Release Date: 2018Genre: Character study dramaDirector: Lynne RamsayCast: Joaquin Phoenix, Ekaterina Samsonov, Alex Manette, John Doman, Judith Roberts
One of the best movies of the year is now available to stream on Amazon Prime Video. Lynne Ramsay's You Were Never Really Here is a haunting character study about a man who deals in violence. Joaquin Phoenix gives a stunning, quiet-yet-physical performance as Joe, a hit man of sorts who is often hired to rescue girls sold into sex trafficking. Using a hammer as his primary weapon, Joe stalks from job to job, silently taking out anyone who gets in his way. But his latest job gets him in over his head, and he's forced to go to extreme measures. This premise sounds like it would result in a graphically violent thriller, but Ramsay and editor Joe Bini find creative ways to cut around the violence, denying us any sort of cathartic moment. The editing in general is unlike anything you're used to, showing us the bare minimum, thus forcing us to fill in the blanks for ourselves.
For fans of: Taxi Driver, The Girl With the Dragon Tattoo, We Need To Talk About Kevin, Joaquin Phoenix looking thicc.
Now Streaming on Amazon Prime Video
Release Date: 1946Genre: Old-Timey Tear-JerkerDirector: Frank CapraCast: James Stewart, Donna Reed, Lionel Barrymore, Thomas Mitchell, Henry Travers
I know what you're thinking: "It's too early for a Christmas movie! You should be sent to prison for including this!" Sure, It's a Wonderful Life has become synonymous with the holiday season, but Christmas isn't really a huge part of this film. In fact, a good chunk of the movie doesn't take place at Christmas at all. No, I'm not trying to pull one of those "This isn't really a Christmas movie!" things here; it is – but here's the thing: It's a Wonderful Life is so, well, wonderful that it's worth watching any time of the year. And best of all: the movie is now streaming for the first time ever. Frank Capra's earnest, romantic, empathetic tale focuses on a good man (played by Jimmy Stewart) at the end of his rope. Stewart's George Bailey attempts to kill himself one Christmas Eve, only to be stopped by his guardian angel. From here, the angel takes him on a journey through a world where George was never born. It's dark – darker than you might even remember. It's so dark, in fact, I'm always a little shocked it became a holiday classic. There's a heart-warming conclusion that will make you tear up, but before all that, George stumbles through terrible, noir-ish darkness. And the people around him don't get off easy, either. This is post-war cinema – cinema for Americans who had become accustomed to loss, loneliness and all that darkness. Thankfully, a little light gets through.
For fans of: A Christmas Carol (take your pick on which version), The Best Years of Our Lives, A Matter of Life and Death, Jimmy Stewart and Donna Reed smooching hardcore.
Now Streaming on Netflix
Release Date: 2006Genre: Sci-FiDirector: Alfonso CuarónCast: Clive Owen, Julianne Moore, Michael Caine, Clare-Hope Ashitey, Chiwetel Ejiofor, Charlie Hunnam
Before Alfonso Cuarón's fantastic Roma arrives on Netflix this month, check out this incredible 2006 dystopian drama. Set in a world where all women have become infertile, Cuarón's film uncomfortably predicts where society was headed, complete with immigrants being locked up in cages. It's bleak – but there's hope. Clive Owen plays a man who is trying to help protect a young illegal immigrant (Clare-Hope Ashitey) who just happens to be the first pregnant woman in over 18 years. Ever the showman, Cuarón stages jaw-dropping set-pieces, including one attack sequence that's made to look like it was filmed in one impossible long-take. But like all Cuarón's work, there's raw humanity buried under the technical prowess.
For fans of: Gravity, Snowpiercer, The Road, extremely brief Julianne Moore appearances.
Now Streaming on Amazon and Hulu
Release Date: 1990Genre: Weird ThrillerDirector: Kathryn BigelowCast: Jamie Lee Curtis, Ron Silver, Clancy BrownJamie Lee Curtis, who is currently killing it at the box office with Halloween, stars in this 1990 curiosity from Kathryn Bigelow. In Blue Steel, Curtis plays a rookie cop who kills a suspect in a shootout. Things get worse from there: the gun the suspect had is picked up by a Wall Street trader (Ron Silver), and it's kind of implied that the gun has the mystical power to turn Silver's character evil. Or he's just a psychopath to begin with. In any case, the lack of gun at the scene gets Curtis in hot water. While attempting to clear her name, she enters into a relationship with Silver – unaware that he stole her gun (and that he's also a murderer). Bigelow's assured directorial style keeps all of this from becoming too ludicrous, while at the same time allowing the film to tip into some sleazy territory. It's one of Bigelow's least-talked-about films at this point, but worth checking out.For fans of: Point Break, Unlawful Entry, Nighthawks, supernatural firearms.
Now Streaming on Hulu
Release Date: 1995Genre: Historical DramaDirector: Michael Caton-JonesCast: Liam Neeson, Jessica Lange, John Hurt, Tim Roth, Eric Stoltz, Brian Cox, Jason FlemyngRob Roy hit theaters in 1995, which was bad luck. Because that was also the year of Braveheart, the other film about a historical Scottish character. Braveheart got most of the attention (and awards), and Rob Roy got lost in the shuffle. But this Liam Neeson-starring flick is a sweeping, romantic, swashbuckling adventure, and holds up better than Braveheart. Neeson's Rob Roy is wronged by a nobleman, and forced to become an outlaw. Along the way, he's out to get revenge. Neeson is predictably great as the kilt-wearing hero, and Jessica Lange makes an impression as his wife. But the film really belongs to Tim Roth, playing a murderous aristocrat who makes Rob Roy's life hell.For fans of: Michael Collins, Braveheart, The Last Of The Mohicans, kilts as far as the eye can see.
Now Streaming on Netflix
Release Date: 2011Genre: Non-Stop ActionDirector: Gareth EvansCast: Iko Uwais, Joe Taslim, Donny Alamsyah, Yayan Ruhian
Ready for a non-stop punching, kicking, stabbing fest? You better be, because The Raid is streaming on Netflix. Gareth Evans' no-holds-barred action film follows special forces officers infiltrating a high-rise building, and having to fight their way through non-stop mayhem. The plot is...thin (and whatever plot there is isn't that interesting). But the action is so intense, so skilled, so unlike what most audiences are used to, that The Raid is like a kick to the face. It just keeps going, and never lets up. Sooner or later, they'll get around to making that long-rumored American remake of this. Ignore it.
For fans of: The Night Comes For Us, Dredd, Ninja: Shadow of a Tear, cringing.
Now Streaming on Hulu
Release Date: 1998Genre: Musical DramaDirector: François GirardCast: Samuel L. Jackson, Carlo Cecchi, Sylvia ChangThe Red Violin boasts a gorgeous, haunting soundtrack and a rather unique set-up: a violin made in the 1600s is passed down through the ages, before finally winding up in the present day. We see the instrument move from hand to hand, while in modern-times, an appraiser (Samuel L. Jackson) tries to authenticate the instrument. This may not sound particularly thrilling, but there's a backstory to the violin that you won't expect, and the individual segments – the 1700s, the 1800s, the 1960s and more – each bring their own individual spin to the story. It's almost like an anthology film – like Creepshow, without all the bloody monsters. Bonus: this film might feature the most subdued, quiet Samuel L. Jackson performance you will ever see.For fans of: Amadeus, Thirty Two Short Films About Glenn Gould, Short Cuts, beautiful music.
Now Streaming on Shudder and Kanopy
Release Date: 2018Genre: HorrorDirector: François Simard, Anouk Whissell, Yoann-Karl WhissellCast: Graham Verchere, Judah Lewis, Tiera Skovbye, Rich Sommer
There's a serial killer preying on teenage boys in a small town in the 1980s, and teen Davey Armstrong (Graham Verchere) thinks he knows who the killer is – his neighbor (Rich Sommer), who also happens to be a cop. Summer of '84, which inexplicably has three directors, is a fun throwback to the Amblin age, with a little Monster Squad thrown in for good measure. As Davey and his teen friends spy on their neighbor, the film takes on a playful, even comedic tone. And then things get considerably darker, and more violent. Summer of '84 isn't the most original '80s homage, but it has a lot of heart – and the final act goes to some considerably dark places. The synth-based soundtrack by Le Matos is a highlight.
For fans of: The Monster Squad, Rear Window, The Guest, Canadians pretending to be American.
Now Streaming on Netflix
Release Date: 2014Genre: DocumentaryDirector: Tiller RussellThe Seven Five is a documentary that plays out like a Martin Scorsese crime drama, with director Tiller Russell making great use of music, flashy editing and re-enactments to tell the story of a group of corrupt cops working in 1980s Brooklyn. This story is shocking on its own, but The Seven Five ups the stakes by having many of the crooked cops talk about their past crimes – and it's clear almost none of them are very repentant. Some may take issue with Russell's overly cinematic approach to telling this story, but it works – and keeps the film moving at a clipped, engrossing pace.For fans of: Serpico, GoodFellas, The Thin Blue Line, documentaries destined to be turned into feature films.
Now Streaming on Shudder
Release Date: 2009Genre: HorrorDirector: David KeatingCast: Timothy Spall, Eva Birthistle, Ella Connolly, Aidan Gillen
After the violent death of their young daughter, a married couple (Aidan Gillen and Eva Birthistle) move to a remote village, and struggle to cope with their loss. As fate would have it, the village they now inhabit is the home of a group of cultists who are able to perform a ritual that raises the dead. You can probably guess where this is going: the couple perform the ritual, and raise their daughter from the dead. Unfortunately, this couple didn't see Pet Sematary, or else they would know that sometimes, dead is better – because the child that comes back is very changed (and very violent). Creepy, eerie and appropriately somber, Wake Wood is the type of low budget horror that more filmmakers should emulate.
For fans of: Pet Sematary, Don't Look Now, Kill List, creepy villages with dark secrets.