The Morning Watch: 'Rick And Morty' Bar Gets Destroyed, 'Fantastic Beasts' Cast Surprises A School &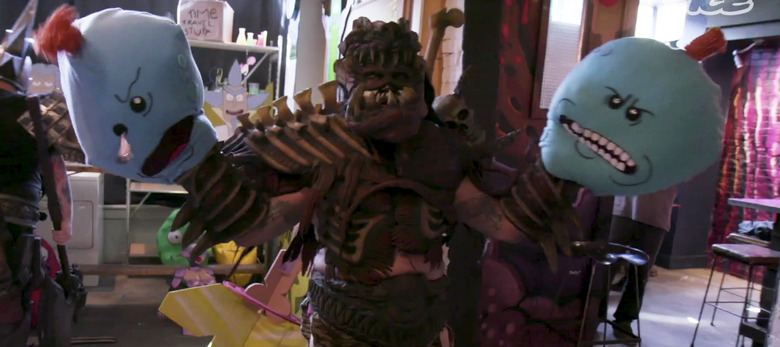 The Morning Watch is a recurring feature that highlights a handful of noteworthy videos from around the web. They could be video essays, fanmade productions, featurettes, short films, hilarious sketches, or just anything that has to do with our favorite movies and TV shows.
In this edition, watch the Rick and Morty themed bar that was shut down by Adult Swim get destroyed by the heavy metal band GWAR. Plus, see what happens when the Fantastic Beasts: The Crimes of Grindelwald cast surprises and elementary school, and listen as Greg Kinnear breaks down his eclectic and extensive career.
You might remember the short-lived Rick and Morty bar that popped up in Washington DC earlier this year since we had our own Hoai-Tran Bui check it out, even though she knew nothing about the show. Sadly, The Wubba Lubba Dub pub was shut down after just one night thanks to a cease and desist letter from Adult Swim, and now it's been completely destroyed by GWAR. Watch them do it with glee above!
Next up, one lucky elementary school in Alabama decorated their halls with Wizarding World decorations because they're such big Harry Potter fans, and they were rewarded with a visit from Jude Law, Eddie Redmayne, Ezra Miller, Zoe Kravitz and some of the other cast members from Fantastic Beasts: The Crimes of Grindelwald. Needless to say, they freaked out.
Finally, Greg Kinnear is popping up on the final season of House of Cards, but he's been in the acting game a long time. For GQ, the actor breaks down some of his more recognizable roles, including As Good As It Gets, You've Got Mail, Sabrina, Auto Focus, Little Miss Sunshine, Nurse Betty and the recent Brigsby Bear.