Exclusive: Jeremy Irons Is Older Ozymandias In The 'Watchmen' TV Series, Jean Smart Joins The Cast As An FBI Agent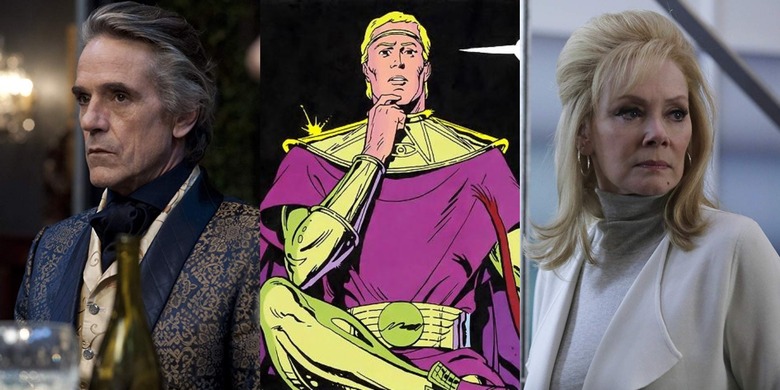 HBO's Watchmen has been officially ordered to series, but that doesn't mean there's a lot of information out there about this mysterious project. This show, like justice, has gone hooded – its identity remains a well-kept secret.
However, a few new details have come to light. We knew that Oscar-winner Jeremy Irons had joined the cast, but /Film has learned that he is playing none other than the older version of Adrian Veidt, aka Ozymandias, a key character from the original Watchmen comic series. In addition, we can exclusively report that Legion and Fargo star Jean Smart has joined the cast of the show as a mysterious FBI agent.
Watchmen is being shepherded to the small screen by Damon Lindelof (Lost, The Leftovers), who previously revealed that the series won't be an adaptation of the iconic comic, but a story set in the same universe decades later:
This story will be set in the world its creators painstakingly built...but in the tradition of the work that inspired it, this new story must be original. It has to vibrate with the seismic unpredictability of its own tectonic plates. It must ask new questions and explore the world through a fresh lens. Most importantly, it must be contemporary. The Old Testament was specific to the Eighties of Reagan and Thatcher and Gorbachev. Ours needs to resonate with the frequency of Trump and May and Putin and the horse that he rides around on, shirtless. And speaking of Horsemen, The End of the World is off the table...which means the heroes and villains–as if the two are distinguishable–are playing for different stakes entirely.
That time jump means a number of new characters and fresh faces, but it also means possibly catching up with some of the surviving members of the original cast. After all, the original Watchmen (both the comic and Zack Snyder's film adaptation) concluded with virtually every surviving character compromised, forced to keep a devastating secret or risk the end of the world.
Jeremy Irons is Adrian Veidt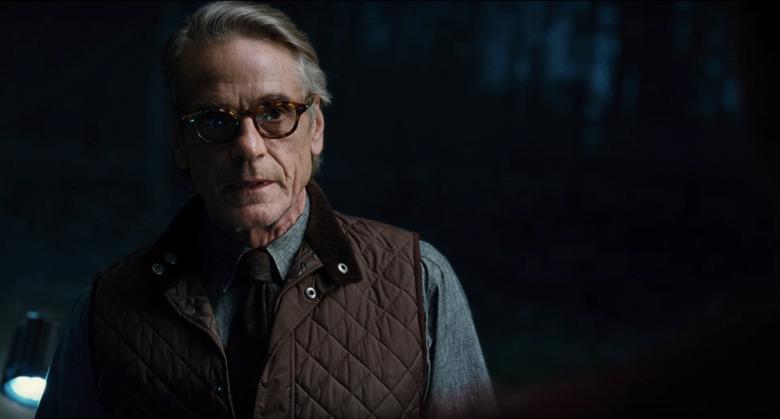 Jeremy Irons joined the Watchmen cast several months ago, when it was revealed he would be playing an "aging and imperious lord of a British manor." We can now confirm that this aging and imperious lord is Adrian Veidt, the wealthy industrialist, genius, and former superhero ("Ozymandias") who – spoilers for the Watchmen comic – faked an alien invasion and killed thousands of innocent people to prevent nuclear armageddon and unite mankind against a fictional enemy. On the page, he's one of the most complex and nuanced "villains" in comic book history, a man whose "evil scheme" exists purely to achieve world peace, sacrificing much of New York City to make it happen. He's left alive at the end of the original Watchmen, forced to live with his decisions and wonder if he did the right thing.
Irons is no stranger to comic book projects, having starred as Bruce Wayne's loyal butler Alfred in Batman v Superman: Dawn of Justice and Justice League, but he is also one of the best actors currently alive. An Oscar winner for Reversal of Fortune, he has a knack for playing complex, troubled men and the role of Adrian Veidt fits him like a vigilante's glove.
However, Ozymandias' full role in the series remains locked away. After all, early set photographs featured newspaper headlines suggesting that Adrian Veidt has recently died when the show begins. Does this mean Irons' role in the series will be relegated to flashbacks? Or has he faked his death to live and brood in secret? We shall see. One thing is certain: Ozymandias and his actions will surely loom large over this entire show.
Jean Smart is an FBI Agent With a Curious Surname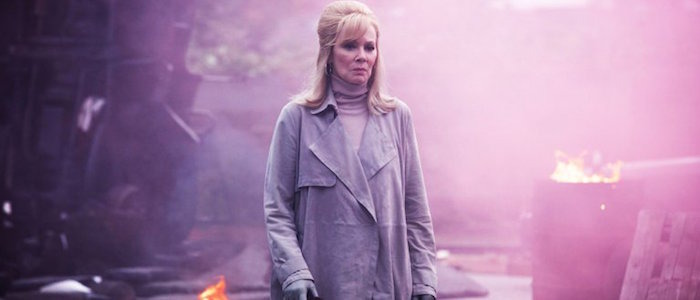 While the Watchmen cast was already stacked with memorable actors, there is always room for one more. Emmy-winner Jean Smart has joined the ensemble. Smart is television royalty (she's been nominated for eight Emmys and won three), with credits that include Frasier, 24, Fargo, and more. But she is also fresh off another ambitious superhero television show – she plays Dr. Melanie Bird on FX's X-Men series, Legion.
So, what do we know about her Watchmen character? We know that Smart is playing an FBI agent tasked with tracking down vigilantes, which makes sense in a world where superheroes have been outlawed. However, it's her character's name that should raise the eyebrows of Watchmen fans: Agent Blake.
One of the key characters in the original Watchmen is Edward Blake, the violent and surprisingly complex vigilante turned government operative better known as The Comedian. It's his death that kickstarts the plot of the original comic (he's a major player in flashbacks) and he continues to be a presence from beyond the grave. It's entirely possible that Jean Smart's character name is a winking homage to this character. It's also possible that she is somehow related to him, continuing his government work where he left off.
And let's spitball one crazy theory: late in Watchmen, Laurie Juspeczyk (AKA Silk Spectre) learns that Edward Blake was actually her secret biological father, a truth her mother kept hidden for decades. Is it possible that Jean Smart is playing Laurie, now older and following in her father's footsteps, even taking on his last name? Once again, we shall see.
***
Watchmen also stars Regina King, Don Johnson, Tim Blake Nelson, Louis Gossett Jr., Adelaide Clemens, Andrew Howard, Tom Mison, Frances Fisher, Jacob Ming-Trent, and Yahya Abdul-Mateen II and is expected to debut on HBO in 2019.