Exclusive: The 'Breaking Bad' Movie Will Be A Sequel Following Jesse After The Series Finale, Aaron Paul To Return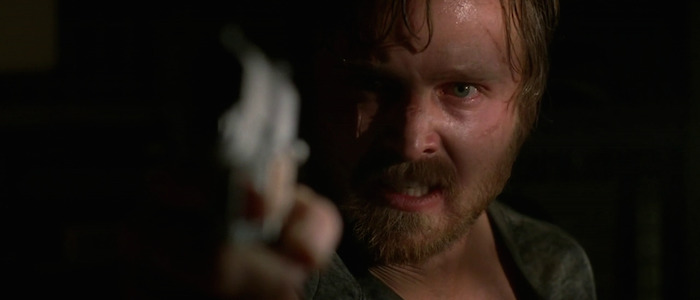 Over the course of five incredible seasons, Breaking Bad put its cast of characters through the wringer. But no one suffered quite like Aaron Paul's Jesse Pinkman, the meth-dealing loser who lost everything (and everyone) that mattered to him simply because he was unfortunate enough to enter the orbit of Walter White.
And his suffering isn't over yet. /Film has learned that
the newly announced Breaking Bad movie
will be a sequel set after the events of the series finale, following Jesse as he blazes a trail away from that horrifying finale.
Last night, we learned that series creator Vince Gilligan was writing and executive producing a Breaking Bad movie, although it is unknown if he will also direct. It was also suggested that this will be a television movie, as it is being make through Gilligan's deal with Sony TV, who produced the original show (which aired on AMC). There was even the briefest of brief loglines: the movie would "[track] the escape of a kidnapped man and his quest for freedom."
And yes, Breaking Bad fans, you put two and two together correctly: we have confirmed that the kidnapped man is Jesse Pinkman and the movie will follow his escape from Albuquerque following the bloody events of the series finale. Naturally, Aaron Paul is set to reprise the role, which won him three Emmy awards for Best Supporting Actor in a Drama Series.
Spoilers for Breaking Bad's final episode are strewn throughout the rest of this article like the bodies of Heisenberg's enemies.
In the final season of Breaking Bad, Jesse was abducted and held captive by a group of neo-Nazi scumbags, who forced him to cook Heisenberg's blue meth recipe while Walter White himself absconded to the wilderness to die lonely and rich. Chained in a dark room and tormented, Jesse made an unsuccessful escape attempt and was forced to watch as Andrea (the woman he had fallen for) was executed for his actions. It only ended when Walter – ego recharged by guilt, rage, and the desire to reclaim his dark legacy – arrived and science-murdered the Nazi crew with a remote control machine gun. After strangling his chief tormenter Todd and sparing Mr. White, Jesse drove into the night, overcome with manic joy and panic, all told through Aaron Paul's stunning and heartbreaking screams of rage and laughter.
Jesse had escaped, but he wasn't really free. His story was intentionally left wide open, a big question mark for a character who often made the wrong decision at every fork in the road. And now, it looks like Gilligan is going to bring some closure to the poor man. Maybe.
Shortly after the finale aired, Gilligan
spitballed what could happen to Jesse next
. Does this suggest what the movie could be about? We shall see:
My personal feeling is that he got away. But the most likely thing, as negative as this sounds, is that they're going to find this kid's fingerprints all over this lab and they're going to find him within a day or a week or a month. And he's still going to be on the hook for the murder of two federal agents. But yeah, even though that's the most likely outcome, the way I see it is that he got away and got to Alaska, changed his name, and had a new life. You want that for the kid. He deserves it.
This won't be the first time Gilligan has expanded the Breaking Bad universe. The prequel series Better Call Saul recently ended its fourth critically-acclaimed season, proving that there is still plenty of untapped potential in this world. A film sequel suggests Gilligan only wants to expand and deepen the Breaking Bad universe, which would sound like a terrible idea if Better Call Saul hadn't already proven that this can be done so well. And while Aaron Paul hasn't been wanting for work, he's yet to find a post-Breaking Bad role that has fit him quite as well as Jesse Pinkman. Giving him a chance to revisit this character once more feels right.
No title or release date has been set for the Breaking Bad movie just yet, but production is expected to begin in New Mexico soon.