Cool Stuff: Horror Christmas Ornaments Are Coming To Save The Holidays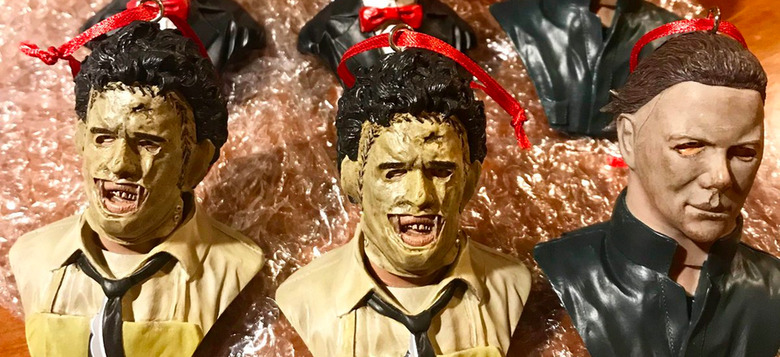 Halloween may be over, but the horror-related fun doesn't have to stop just because the holidays are almost upon us. In an attempt to make Christmas just a little extra creepy, Trick or Treat Studios is releasing a set of horror Christmas ornaments depicting various horror movie characters. These look like a must-own for any horror fan (like me; give these to me now).
Trick or Treat Studios is proud to announce our Christmas Horror Ornaments! Decorate your holiday tree with your favorite Horror horror icons! Each sold separately, in a collectors box! Coming soon!!  Only at https://t.co/Z1ernDjmLb pic.twitter.com/ml84adiG0i

— TrickorTreat Studios (@TrickorTreat831) November 6, 2018
If you've ever wanted to have the puppet from Saw hanging from your Christmas tree, your time has come. Trick or Treat Studios, makers of high-quality masks and other horror-related paraphernalia, are poised to release these super-cool looking horror holiday ornaments. In addition to Billy, the puppet from Saw (yes, he has a name, folks), the line-up includes Sam from Trick 'r Treat, Leatherface from The Texas Chainsaw Massacre, and Michael Myers from Halloween.
I feel like I've been waiting for something like this my entire life. I'll definitely be picking up that Michael Myers ornament whenever it goes on sale, and I might grab Leatherface as well. I hope Trick or Treat Studios releases other characters in the future – I'd love a Pennywise from It ornament (either version – miniseries or 2017 movie).
Per the announcement, each ornament will be sold separately, in a collectors box. There's no word on when these will go on sale, and the Trick or Treat website doesn't have them listed yet. One can only assume they'll be ready in time for the holidays, which are rushing at us faster than the blood that comes pouring out of the elevator in The Shining.