'Breaking Bad' Movie In The Works From Creator Vince Gilligan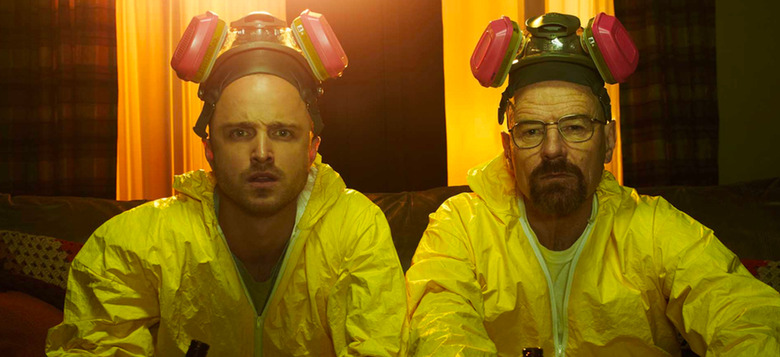 I have no idea what to make of this, but word broke tonight that a Breaking Bad movie is in the works, with series creator Vince Gilligan set to write and possibly direct. Here's the thing: details are very slim, and it's not clear how this film connects to the Breaking Bad world. We also don't know if this is a film destined for theaters, or if it's a TV movie. We also don't know if the show's main stars  – Bryan Cranston and Aaron Paul – are returning in any capacity. In short: we really don't know much. But Vince Gilligan is up to something out in New Mexico.
A rumor surfaced earlier in The Albuquerque Journal that a Breaking Bad movie was in the works, getting ready to film in New Mexico. By nightfall, several trade publications – including Variety and THR – confirmed this to be true. Sort of. It's very difficult to tell just what's happening here, and I remain a bit skeptical this is a Breaking Bad movie. For one thing, the Breaking Bad story has been wrapped up rather succinctly – and Walter White (Bryan Cranston) is dead. Of course, there's also Better Call Saul, a prequel series that's found exciting new ways to expand the Breaking Bad mythology. Could this movie be a prequel as well? Or something else?
The logline, as of now, is that this film "tracks the escape of a kidnapped man and his quest for freedom." Fans of Breaking Bad will recall that in the final season of the show, Jesse Pinkman (Aaron Paul) was kidnapped by nazis, who then forced him to cook meth. Jesse tried to escape several times, but was foiled in his attempt. Time eventually passed, and Jesse later escaped after Walt showed up and killed all the nazis with a robot machine gun.
Could this film perhaps focus on the period of time surrounding Jesse's captivity, showing us events that happened off-camera? Is Jesse the "kidnapped man" in this story? Or is the film about completely new characters? It's very hard to say, because there's no confirmation if Cranston or Paul (or any other Breaking Bad actors) are returning.
Whatever this film is, it's going under the working title of Greenbriar, and The New Mexico Film Office confirmed that the film is set to shoot in the area soon. Breaking Bad creator Vince Gilligan will write and executive produce, and he might direct as well. THR says the project "would mark Gilligan's first project to stem from the new three-year overall deal he signed with Sony TV in July," which might indicate this is a movie destined for TV (or streaming) rather than the big screen.
I suspect we'll know more about this soon, but until someone from the production (like Gilligan) comes right out and says, "Yes, this is a Breaking Bad movie!", I'm going to remain skeptical, but hopeful.