Great, Bob! Damon Lindelof's 'Watchmen' Casts 'Mad Men' Actor James Wolk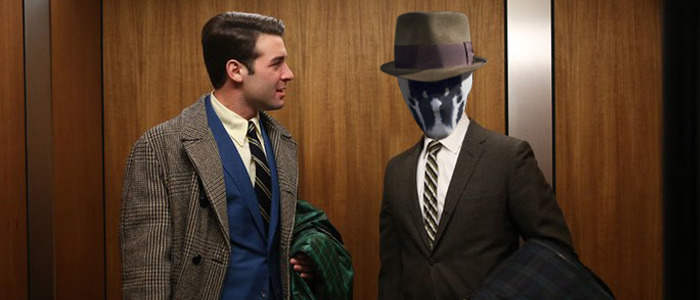 James Wolk is heading to an alternate universe.
The former Mad Men actor – Wolk was famously on the receiving end of Vincent Kartheiser's meme-worthy "Not great, Bob!" zinger, hence the headline of this article – is the latest to join the cast of HBO's Watchmen. LOST creator Damon Lindelof is "remixing" the iconic superhero graphic novel by writer Alan Moore and artist Dave Gibbons for the small screen, and Wolk has joined a sprawling cast as a major recurring character. Read more about Wolk's role below.
Deadline reports that Wolk has boarded a massive cast that already includes Regina King, Jeremy Irons, Don Johnson, Tim Blake Nelson, Louis Gossett Jr., Adelaide Clemens, Andrew Howard, Tom Mison, Frances Fisher, Jacob Ming-Trent, and Yahya Abdul-Mateen II.
According to the outlet, he'll play "a junior senator from Oklahoma." If you're thinking to yourself, "Hey, I don't recall a character like that from the comic," it's important to remember that Lindelof is approaching this adaptation from an entirely different angle. He previously explained his ambitious approach to this series: basically, it's going to take place in the same world as the events of the comic, but years later:
We have no desire to "adapt" the twelve issues Mr. Moore and Mr. Gibbons created thirty years ago. Those issues are sacred ground and they will not be retread nor recreated nor reproduced nor rebooted.
They will, however be remixed...
This story will be set in the world its creators painstakingly built...but in the tradition of the work that inspired it, this new story must be original. It has to vibrate with the seismic unpredictability of its own tectonic plates. It must ask new questions and explore the world through a fresh lens. Most importantly, it must be contemporary. The Old Testament was specific to the Eighties of Reagan and Thatcher and Gorbachev. Ours needs to resonate with the frequency of Trump and May and Putin and the horse that he rides around on, shirtless. And speaking of Horsemen, The End of the World is off the table...which means the heroes and villains – as if the two are distinguishable – are playing for different stakes entirely.
I've been a fan of James Wolk since seeing him on the cancelled-too-soon 2010 TV series Lone Star, and have enjoyed him in things like Happy Endings and For a Good Time, Call... in the years since. If you're wondering where else you may have seen him before, he headlined the CBS drama Zoo, popped up briefly on Showtime's Billions, and had a recurring role on Amazon's Goliath. The dude has been hustling for years, and I'm excited to see what he brings to Lindelof's weird-sounding riff on a classic comic.
Check out the first-look reveal from the new series right here. Trent Reznor and Atticus Ross are composing the score, and the series will debut on HBO sometime in 2019.