'Deadwood' Movie Begins Production With Original Cast Returning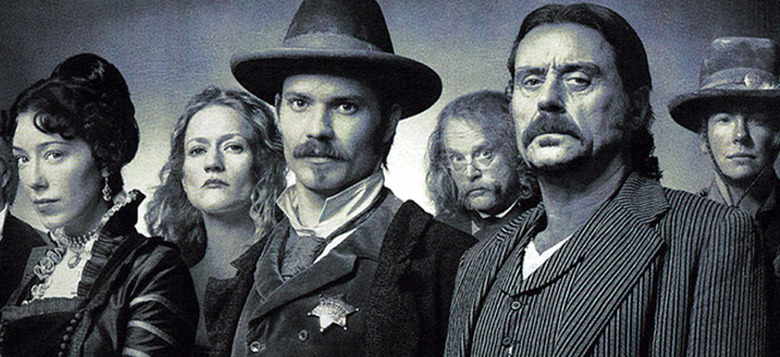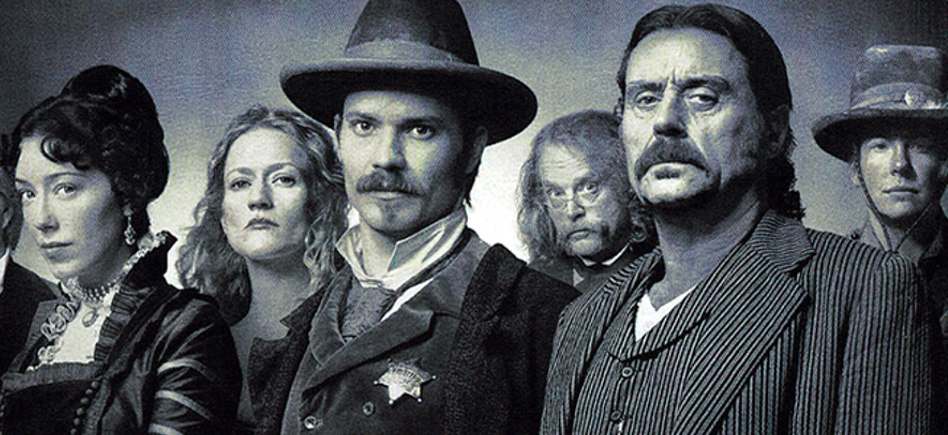 Tell your god to ready for blood, because it's finally happening. HBO has announced the Deadwood movie has officially begun production, and the original cast is returning. There have been talks of a Deadwood movie ever since the original show went off the air in 2006. As the years ticked on, it seemed less and less likely that we'd ever return to the foul-mouth world of David Milch's anti-Western. But now, it's really happening.
I never thought this day would come, and I'm thrilled to be wrong. HBO has officially announced production on the long-awaited Deadwood movie. Creator David Milch penned the script, Daniel Minahan will helm, and almost the entire original cast is returning: Ian McShane (Al Swearengen), Timothy Olyphant (Seth Bullock), Molly Parker (Alma Ellsworth), Paula Malcomson (Trixie), John Hawkes (Sol Star), Anna Gunn (Martha Bullock), Dayton Callie (Charlie Utter), Brad Dourif (Doc Cochran), Robin Weigert ("Calamity" Jane Canary), William Sanderson (E.B. Farnum), Kim Dickens (Joanie Stubbs) and Gerald McRaney (George Hearst). The fact that Gerald McRaney's George Hearst is returning is particularly interesting – he was the main antagonist in the third season, and the season (and series) concluded with him leaving town. The film will also feature Jade Pettyjohn as a new character, Caroline.
In the Deadwood movie "the indelible characters of the series are reunited after ten years to celebrate South Dakota's statehood. Former rivalries are reignited, alliances are tested and old wounds are reopened, as all are left to navigate the inevitable changes that modernity and time have wrought."
Deadwood ran from 2004 to 2006 on HBO. While it wasn't exactly a ratings juggernaut, it received critical acclaim – and rightfully so. It's one of the best original shows HBO ever created. Created by David Milch, the series was like a filthy, dirty, violent Shakespearian Western, featuring an incredible lead performance from Ian McShane.
After the series was cancelled, Milch revealed he pitched HBO on two movies to wrap the series up more appropriately. HBO was into the idea, but all remained quiet on the Deadwood front for almost 10 years. Then, in 2016, HBO programming president Michael Lombardo said: "David has our commitment that we are going to do it. He pitched what he thought generally the storyline would be — and knowing David, that could change. But it's going to happen."
Even though the head of programming saying "it's going to happen" sounded pretty damn definite, the Deadwood move failed to materialize. In 2017, word broke that the film was eyeing a fall 2018 production start. But earlier this year, star Timothy Olyphant went as far as to say he doubted the film would ever happen, because it would be too hard to get the cast back together.
But now, it's really happening. There's no word on when the Deadwood movie will arrive, but for now, we can all take comfort knowing it's definitely going to arrive sometime soon.