'Knives Out' Still Adding Great Cast Members, Like Christopher Plummer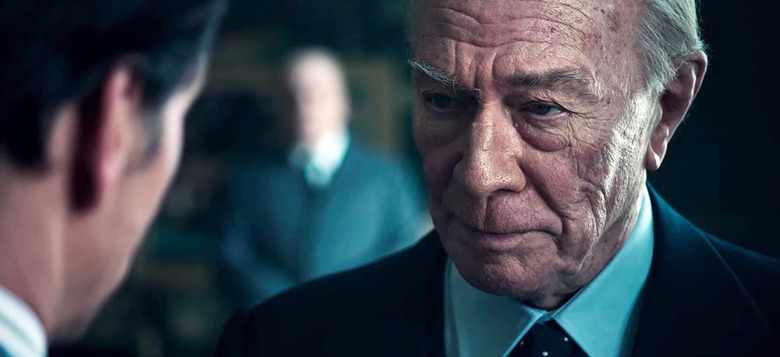 Oh, you thought Rian Johnson's Knives Out was done casting? Think again! The already stacked cast of Johnson's mystery thriller just added yet another noteworthy name: Christopher Plummer. Like most of the roles in the film, next to nothing is known about who Plummer is playing. But the veteran actor joins a cast that includes Daniel Craig, Chris Evans, Lakeith Stanfield, Michael Shannon, Don Johnson, Jamie Lee Curtis, Toni Collette and Ana de Armas. More on the Knives Out cast below.
The Hollywood Reporter broke the news that Christopher Plummer has joined the Knives Out cast. Plummer has been acting since 1953, and delivered memorable performances in The Sound of Music, The Insider, Beginners, Dolores Claiborne and so many more. Recently, he garnered great attention (and an Academy Award Nomination) for playing  J. Paul Getty in All the Money in the World. Kevin Spacey originally played the part, but when accusations of sexual misconduct against Spacey arose, director Ridley Scott chose to go back and re-shoot all of his scenes with Plummer in his place.
So who is Plummer playing in Knives Out? We don't know. In fact, there's a lot we don't know about Rian Johnson's new film. Here's what's confirmed: Daniel Craig is playing a detective character inspired by Hercule Poirot, and the plot is said to be inspired by the work of Agatha Christie and other famous "locked room" mysteries. And that's really it! Beyond that, all we can confirm is that Knives Out has one of the coolest casts ever: Craig, Chris Evans, Lakeith Stanfield, Michael Shannon, Don Johnson, Jamie Lee Curtis, Toni Collette, Ana de Armas and now Plummer.
While Johnson graduated to blockbuster filmmaking with Star Wars: The Last Jedi, he's no stranger to lower-budget films or mysteries. He broke into the business with his fantastic indie Brick, which grafted pulp mystery sensibilities (and dialogue) onto a modern-day high school setting. I can't wait to see what he does with Knives Out. It will also be interesting to see how Johnson's interpretation of Poirot differs from Kenneth Branagh's Poirot series. Branagh directed and starred as Poirot in Murder on the Orient Express in 2017, and he'll return to the role in the follow-up, Death on the Nile. Death on the Nile is due out in 2020, so if Johnson can finish Knives Out and release it in 2019 – which seems to be the plan – he might have the jump on Branagh.
After Knives Out, Johnson is expected to return to the Star Wars franchise with a new trilogy.