'Creed II' Featurette: Everyone Is Out For Revenge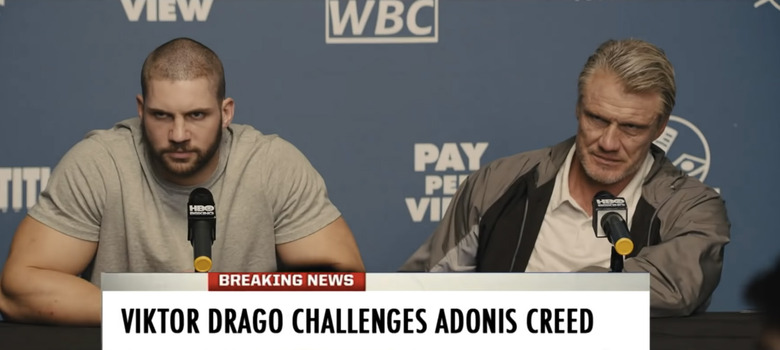 While getting back together with your family could make for an awkward reunion this Thanksgiving, there's no way it will be more tense than the reunion between Rocky Balboa (Sylvester Stallone) and Ivan Drago (Dolph Lundgren) when Adonis Creed (Michael B. Jordan) and Viktor Drago (Florian "The Big Nasty" Munteanu) go head-to-head in the ring in Creed II.
With Turkey Day just around the corner, studios are making their final pushes for some of the big holiday releases that will be clamoring for your family's attention this Thanksgiving, and a new Creed II featurette certainly does a good job of tapping into the nostalgia they might feel when they recall the events of Rocky IV, which loom large in this latest boxing sequel.
Watch the Creed II Featurette
This featurette from across the pond is appropriately titled "Sin of Our Fathers," and it focuses on how everyone in Creed II has something they're trying to get revenge for. Adonis Creed is looking for a victory to rub in the face of Ivan Drago, the man who killed his father Apollo Creed in the ring, and Rocky Balboa wants to make sure he does it for bringing all these terrible memories back.
Meanwhile, Ivan Drago is looking to redeem himself after losing to Rocky Balboa, and in turn losing almost everything in his life. He's living vicariously through his son Viktor Drago, whose anxious to follow in his fathers footsteps and teach the young Creed a lesson in the ring.
The more we see from Creed II, the more it looks like a great sequel. Sure, it's that same formula of a new opponent with some personal stakes, but this feels like it's using the Rocky franchise as a jumping off point rather than a crutch. Here's hoping that Creed II still feels special even though Steven Caple Jr. is directing instead of Ryan Coogler, who only executive produced this time.
Here's the official synopsis for Creed II:
Life has become a balancing act for Adonis Creed. Between personal obligations and training for his next big fight, he is up against the challenge of his life. Facing an opponent with ties to his family's past only intensifies his impending battle in the ring. Rocky Balboa is there by his side through it all and, together, Rocky and Adonis will confront their shared legacy, question what's worth fighting for, and discover that nothing's more important than family. Creed II is about going back to basics to rediscover what made you a champion in the first place, and remembering that, no matter where you go, you can't escape your history.
Creed II heads to theaters on November 21, 2018.