'King Of The Hill' Is Now On Hulu In An Exclusive Streaming Deal For All 13 Seasons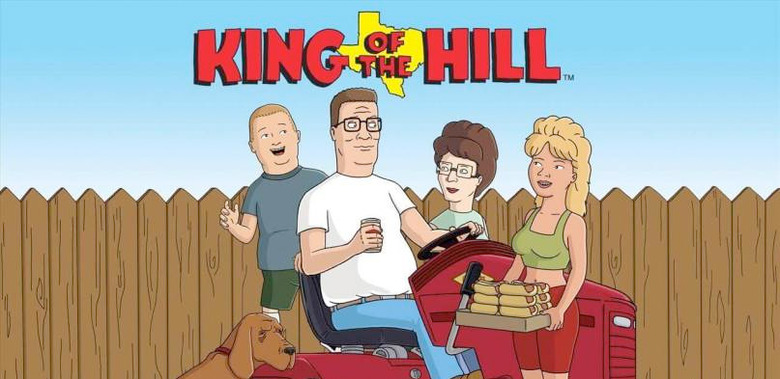 It's been eight years since the FOX animation series King of the Hill came to an end, and since then, fans have enjoyed the show in syndication. They even had it available on Netflix for awhile until it disappeared from the service in 2013. But now King of the Hill has a new streaming home.
Hulu has announced that all 13 seasons of King of the Hill are now available exclusively in their streaming library in a deal that expands their licensing agreement with 20th Century Fox Television.
Variety has word on Hulu being the only streaming service where you can watch King of the Hill over and over again. The series comes from Beavis and Butt-Head creator Mike Judge and Greg Daniels (The Office, Parks and Recreation), and it originally ran on FOX from 1997 through 2009, though it's been airing on Comedy Central in recent years in syndication (where you'll still  be able to find it airing outside of Hulu).King of the Hill follows Hank Hill (voiced by Mike Judge), an assistant manager at a propane company, as he navigates life as honestly and carefully as he can with his wife Peggy (Kathy Najimy), a husky, clumsy son named Bobby (Pamela Adlon), and his niece Luanne (Brittany Murphy). Hank can frequently be found tossing back some beers with his neighbors Bill (Stephen Root), Dale (Johnny Hardwick) and the always unintelligible Jeff Boomhauer (also voiced by Mike Judge).
If you've never seen King of the Hill, here's a taste of the kind of comedy you can expect from the show:
This is great news for King of the Hill fans since it hasn't been available on a streaming platform since it left Netflix five years ago. In fact, you can't even buy it on iTunes or Google Play, so this is a great snag for Hulu. And that's not the only good news from the deal.
Hulu's deal expansion with 20th Century Fox Television also included a renewal of their post-broadcast streaming rights to FOX's current animated comedies Bob's Burgers, Family Guy and American Dad!. Plus, they still have the rights to The Cleveland Show and Futurama.
There's plenty to stream on Hulu, and if you've never gotten around to watching King of the Hill, there's no better time to dive in and watch all 259 episodes. So get yourself over to Hulu and start binging!