'Doctor Who' Christmas Special Scrapped For The First Time In 13 Years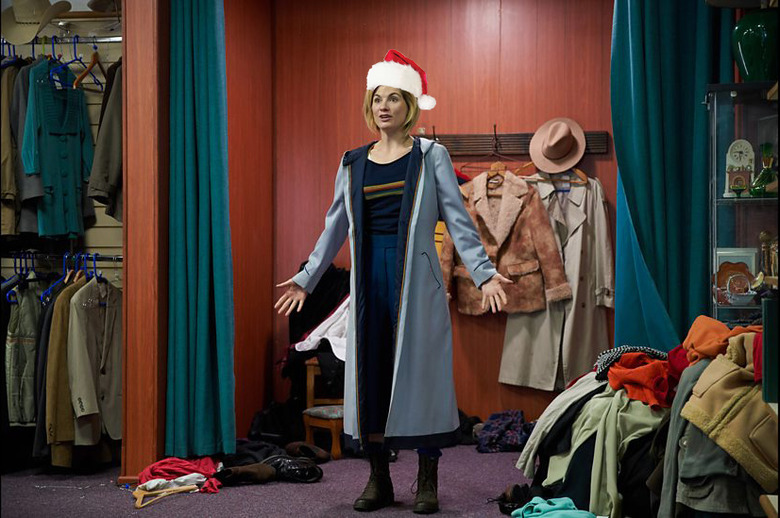 Since the show's revival in 2005, the Doctor Who Christmas specials have become a staple of the holiday season, and a chance for the BBC sci-fi series to flex a blockbuster budget for one night only. These are big event episodes where we've seen some of our favorite Doctors leave, and our other favorite Doctors begin their runs. In fact, the current 13th Doctor, played by Jodie Whittaker, was introduced to much fanfare in the 2017 Christmas special.
But that may change this year. Reports say that showrunner Chris Chibnall has scrapped this year's Doctor Who Christmas special altogether, which is a pretty depressing way to kick off the holiday season. But there may be a silver lining to that lump of coal we've just received.
The Mirror reports that Doctor Who writers have "run out" of Christmas stories to give a sci-fi twist following 13 years of Yuletide-themed episodes. Although when you put it like that, it's a miracle they've kept it going for so long.
This had been decided as far back as San Diego Comic-Con, during which showrunner and writer Chibnall confirmed that there would be an extra "11th episode" following the 10-episode 11th season, suggested the production of a holiday special. "We seem to be filming 11 episodes, and it's only a series of 10," he said. However, Chibnall was careful to avoid using the word "Christmas" when he added:
"I would definitely think there's another episode after the end of the series."
According to the Mirror, this episode will reportedly be a New Year's special, which would keep the special episode within the winter season. This actually wouldn't be the first time Doctor Who has done a New Year's special before, with a two-part Christmas special closing out David Tennant's run airing on January 1, 2010. And the series is no stranger to other holidays either, with another Tennant special airing on Easter (though having little to do with Easter).
The issue of dwindling Christmas-themed stories has existed since Steven Moffat worked as showrunner for the series, admitting that the series all but sidestepped a Christmas story in last year's "Twice Upon a Time," which saw Peter Capaldi's 12th Doctor meeting the 1st Doctor played by David Bradley. The only Christmas-y element of that episode was the snow, and a final-minute revelation about a supporting character played by frequent Doctor Who writer Mark Gatiss.
"I sort of think we might have mined, and possibly over mined, every single thing we could about Christmas in Doctor Who and the last time we more or less ignored it," Moffat said at the time.
So to Whovians: Sorry, I'm so sorry. We probably won't get to celebrate the holidays with eggnog and a new Doctor Who Christmas special. But maybe we'll get to ring in the New Year with our favorite time-traveling alien, and that's not half bad.