New 'Rambo 5' Photo: Yep, Stallone's Going Full Cowboy For This One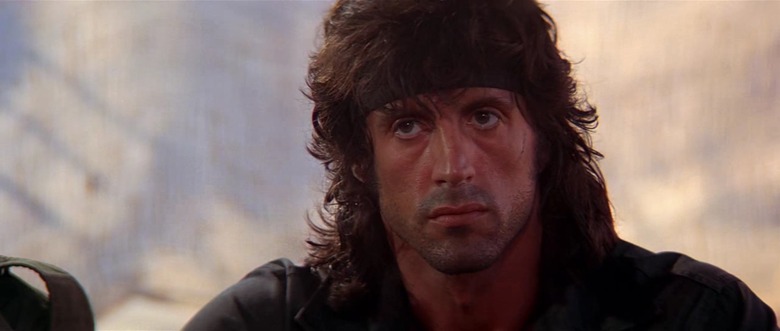 Sylvester Stallone is here to make sure everybody's on the same page about one very important thing. John Rambo? He ain't no city boy.
A new Rambo 5 photo has arrived, showing off Stallone in character and once again proving that the Vietnam veteran has traded in his trusty bandana for a cowboy hat.
Rambo 5 Photo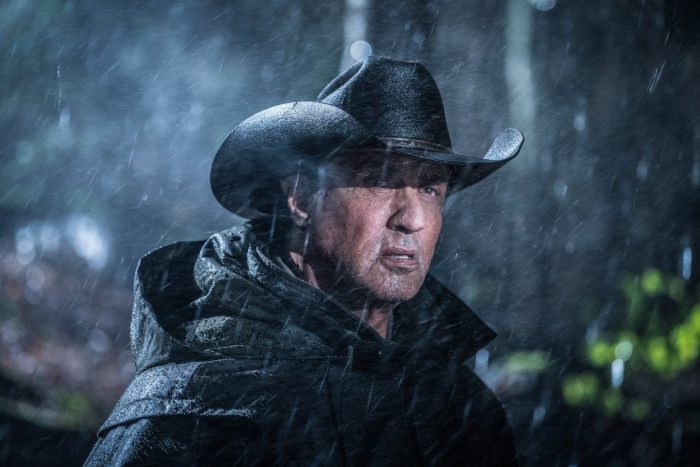 There he is. Legendary cinematic badass John Rambo, standing in the rain wearing a slicker and a black cowboy hat. Staring off into the distance at...something. A genetically mutated monster? No, that was originally going to be the plot for Rambo 5, but it got reworked into a separate movie called Hunter. A member of the drug cartel he's supposed to be fighting? Oh, I think I figured it out! It's probably an outdoor screening of Tango & Cash, in which Stallone plays a cop who, at one point – and this is not a joke – says the line "Rambo is a pussy" before firing a gun into a tanker truck full of cocaine. (The '80s were wild, huh?)
It's weird to see Stallone drastically change his character's whole vibe like this so late in the franchise, but maybe a big sweeping change is what this movie needs to get people interested again. Here's the synopsis:
Rambo 5: Last Blood finds John Rambo coping with intense PTSD while living on a ranch in Arizona, trying to pick up casual work wherever he can. Soon his friend and estate manager Maria informs him that her granddaughter went missing after crossing into Mexico for a party, so John travels south of the border to find the youngster. The quest quickly turns into a violent descent into hell as Rambo uncovers a sex-trafficking ring, teaming up with a journalist whose half-sister has also been kidnapped. Rambo has to deploy all his skills to save the girls and bring down a vicious crime lord.
Adrian Grunberg is directing, and the movie is expected to arrive in theaters sometime in 2019. But if you've got a hankerin' for more Rambo content before then, I suggest you mosey on over to Stallone's Instagram page, where he's constantly posting all sorts of behind the scenes photos and videos. This is my favorite of the bunch (the caption really puts it over the top):
View this post on Instagram
A post shared by Sly Stallone (@officialslystallone) on