'Game Of Thrones' Producers Originally Wanted To End The Series With A Movie Trilogy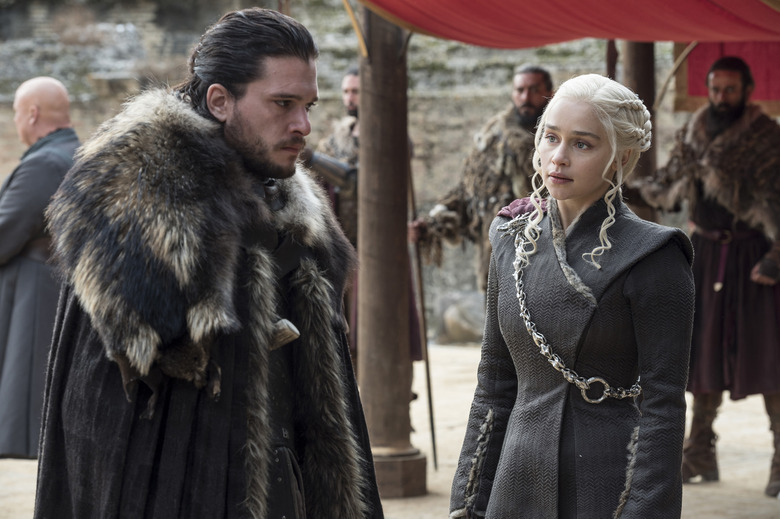 Next year, Game of Thrones will reach its grand conclusion and our television screens will be populated with the corpses of our favorite characters. But at one point, those characters could have died on the big screen.
It seems that the producers of HBO's massively popular fantasy series considered closing out the show with a trilogy of movies as part of a plan to deliver the most epic climax possible. Instead, they settled for a shortened season with the breadth and scope of an expensive trilogy of movies.
This revelation comes in the middle of Entertainment Week's big story about the secretive Game of Thrones season 8. We still don't know who will live, who will die, or who will sit on the Iron Throne when the final credits roll, but we do know that all of what will transpire could have happened in movie theaters instead of in your living room. Here's how EW describes the situation showrunners David Benioff and D.B. Weiss found themselves facing:
So the producers had an idea: The final season could be six hours long and released as three movies in theaters — just like Martin's best-known influence, The Lord of the Rings. It's not that the duo wanted to make movies per se, but it seemed like the only way to get the time and money needed to pull off their finale. 'It's what we're working towards in a perfect world,' Weiss said. 'We end up with an epic fantasy story but with the level of familiarity and investment in the characters that are normally impossible in a two-hour movie.'"
However, that did not come to pass. HBO brass stepped in and reminded everyone that they're in the business of making television shows that retain subscribers, not putting movies in theaters:
The flaw in this plan was that HBO is about serving its subscribers, not taking gambles at the box office. Behind the scenes, the network brass gently shot down the movie idea. But executives assured Benioff and Weiss that they would eventually have everything they needed to make a final season that was "a summer tentpole-size spectacle."
And honestly, that was the right decision. While there is a definite thrill in imagining Game of Thrones on the big screen, the show has been so lush, so expensive, and so well-made for so long now that it already feels like a massive blockbuster movie. Just, you know, much longer and on your television. And with the final season set to run six episodes, that's essentially three two-hour movies spit into six chapters anyway.
On a nitpicky note, I'm also just glad Game of Thrones gets to end as it began – as a TV show. The suggestion that the series would need a promotion to theaters for its finale seems to insinuate that television can't have the same impact as feature films, something that has proven false time and time again in the age of Peak TV. Often by Game of Thrones itself.
Game of Thrones season 8 is set to premiere in 2019.