'Castlevania' Renewed For Season 3 By Netflix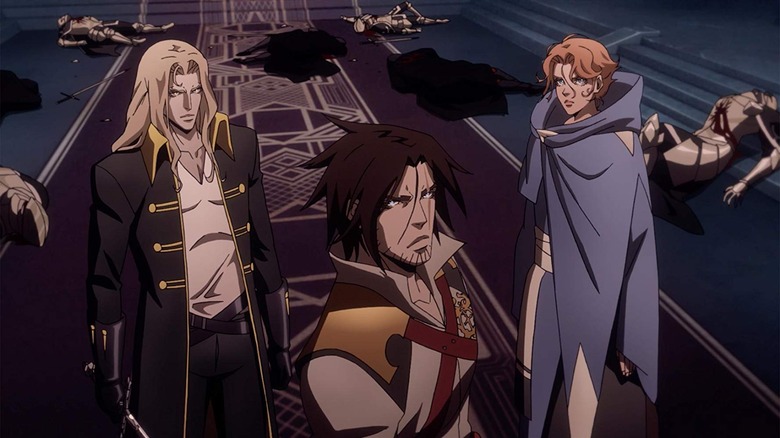 Just a week after the long-awaited second season of Castlevania hit the streaming platform, Netflix has announced its renewal for season 3. The animated adaptation of the classic Konami video game franchise is proving successful, with an even longer episode order set for the upcoming third season.
Deadline reports that Netflix has ordered a 10-episode third season of Castlevania, the medieval fantasy series based on the classic Konami video game. That will make Castlevania season 3 the longest season of the series yet, following the eight-episode second season and the four-episode first season.
Reports that Castlevania season 3 have been floating around since June, long before the second season debuted on the streaming service. But now it seems that Netflix has officially given the green light to writer and executive producer Warren Ellis, who returns to pen all 10 episodes.
Based on the Castlevania video game series first released on the NES in 1986, Netflix's Castlevania follows the last survivor of a disgraced clan of demon hunters who takes up arms against a vengeful Count Dracula hellbent on destroying the country. The third season will follow the the protagonist Trevor (Richard Armitage), as he continues to try to save Eastern Europe from Vlad Dracula Tepes (Graham McTavish). "But Trevor no longer is alone, and now he and his misfit comrades race to find a way to save humanity from extinction at the hands of the grief-maddened Dracula and his sinister vampire war council," Deadline reports.
The series is directed by Sam Deats and also stars James Callis, Emily Swallow, Matt Frewer, Tony Amendola and Alejandra Reynoso.
Here is Castlevania's official synopsis:
"Inspired by the classic video game series, Castlevania is a dark medieval fantasy following the last surviving member of the disgraced Belmont clan, trying to save Eastern Europe from extinction at the hand of Vlad Dracula Tepe himself. The animated series is from Frederator Studios, a Wow! Unlimited Media company, written by best-selling author and comic book icon Warren Ellis and executive produced by Warren Ellis, Kevin Kolde, Fred Seibert and Adi Shankar."
No release date has yet been set for Castlevania season 3.