Martin Lawrence Is A Bad Boy For Life, Confirms Return For 'Bad Boys 3'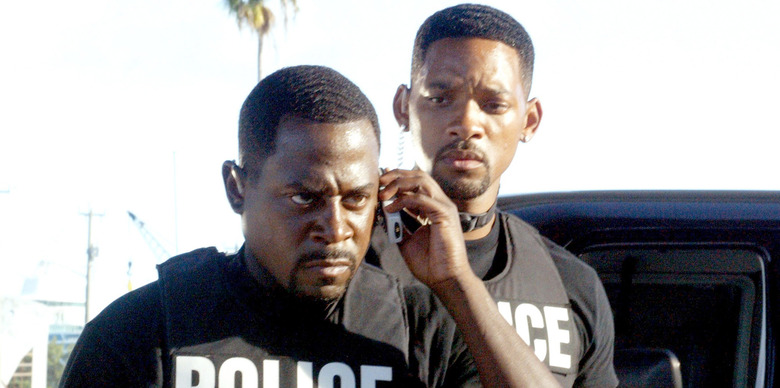 The Bad Boys are officially back together. The long-gestating Bad Boys 3 received the green light from Sony last month with Will Smith on board, but a big question mark remained around franchise co-star Martin Lawrence, who remained a hold-out for as long as a Bad Boys 3 had been rumored. But now, Lawrence's return is seemingly confirmed, with the actor set to reprise his role as Detective Marcus Burnett in Bad Boys For Life.
In an Instagram post showing Martin Lawrence and Will Smith reunited, Lawrence confirmed his involvement in Bad Boys For Life, the third film in the gonzo action franchise, Bad Boys.
"It's official. Bad Boys for Life," Lawrence wrote, along with the hashtags #teammartymar and #weback.
An official green light, a confirmation from both of its stars...maybe Bad Boys 3 could finally, actually be happening after all. The sequel has long been in the works, since at least 2008 when Bad Boys and Bad Boys II director Michael Bay considered helming the third entry to the franchise. The director's chair soon became a revolving door, with The Grey director Joe Carnahan boarding the project in 2015 with a script from Peter Craig, only for Sony to push the project back and Carnahan to depart.
One of the reasons for the sequel's delay was the schedules of the stars, with Smith constantly in demand and Lawrence reluctant to don the holster again. "I don't think we're going to get one, not the way everything's turning out," Lawrence said in 2017. "Will is off doing another movie, and I don't think it's going to happen."
Finally, new directors Adil El Arbi and Bilall Fallah came aboard in 2018. With Lawrence and Smith both seemingly officially on board, we could finally see this movie come to fruition.
Sony has set Bad Boys For Life for release in 2020.