'Spies In Disguise' Trailer: Tom Holland Turns Will Smith Into A Pigeon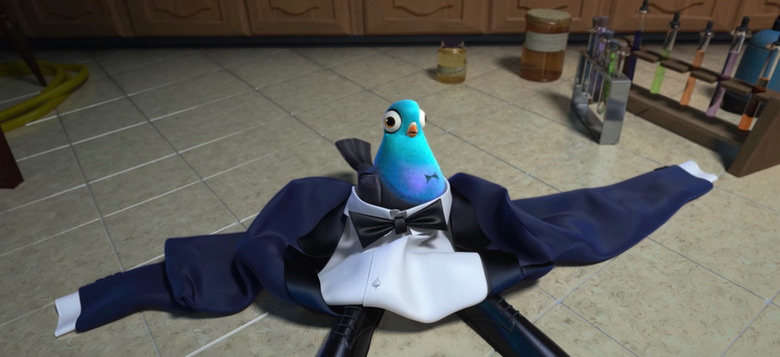 If there's one thing kids love, it's watching a cartoon Will Smith turn into a bird. Thankfully, audiences will get that and more with Spies In Disguise, a new animated comedy featuring the voice talents of Smith and Spider-Man himself, Tom Holland. Smith plays a debonaire super spy, why Holland is the nerdy inventor who comes up with all of Smith's cool spy gadgets. Watch the Spies In Disguise trailer below.
Spies in Disguise Trailer
Minions are tired. Ice Age has thawed. Disney and Pixar are untouchable. The Grinch is going to steal Christmas soon, I guess. Beyond that, it's time to unleash a new animated adventure! Enter Spies In Disguise, a 3D computer-animated film featuring the voices of Will Smith, Tom Holland, Ben Mendelsohn, Karen Gillan, Rashida Jones, DJ Khaled and Masi Oka.
The adventure finds Smith's super spy Lance Sterling having to learn to work with nerdy young scientist Walter Beckett (Tom Holland) after "events take an unexpected turn," according to the official synopsis. Based on this trailer, that "unexpected turn" involves Lance being turned into a pigeon by Walter – something that rightly horrifies Lance. Is that all there is to the movie? Does Lance spend the bulk of Spies In Disguise in comical bird form? I can only assume the answer is no, and this trailer is only giving away a smidgen of the story. Or maybe I'm wrong! Maybe this entire movie is about Will Smith as a pigeon. In fact, this movie is an adaptation of Lucas Martell's 2009 animated short Pigeon: Impossible, which you can watch in full below.
Pigeon: Impossible
Obviously, this looks a little different than the feature film, so we'll have to wait and see how it all pans out when Spies In Disguise opens on September 13, 2019.
Super spy Lance Sterling (Will Smith) and scientist Walter Beckett (Tom Holland) are almost exact opposites. Lance is smooth, suave and debonair. Walter is... not. But what Walter lacks in social skills he makes up for in smarts and invention, creating the awesome gadgets Lance uses on his epic missions. But when events take an unexpected turn, Walter and Lance suddenly have to rely on each other in a whole new way. And if this odd couple can't learn to work as a team, the whole world is in peril. SPIES IN DISGUISE is an animated comedy set in the high-octane globe-trotting world of international espionage.