First 'Game Of Thrones' Season 8 Photo, Producer Teases "Haunting" Final Season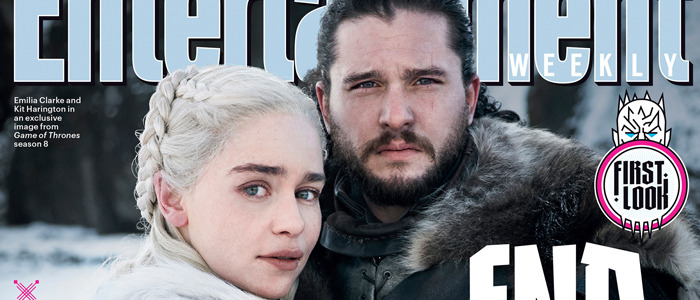 The wait for the final season of HBO's mega-hit Game of Thrones will continue into next year, but today, we have our first official season 8 photo courtesy of a new Entertainment Weekly cover. Jon Snow and Daenerys Targaryen share an embrace, while stars Kit Harington and Emilia Clarke and co-executive producer Bryan Cogman share some details about the making of one of the biggest seasons of television in history. 
First Game of Thrones Season 8 Photo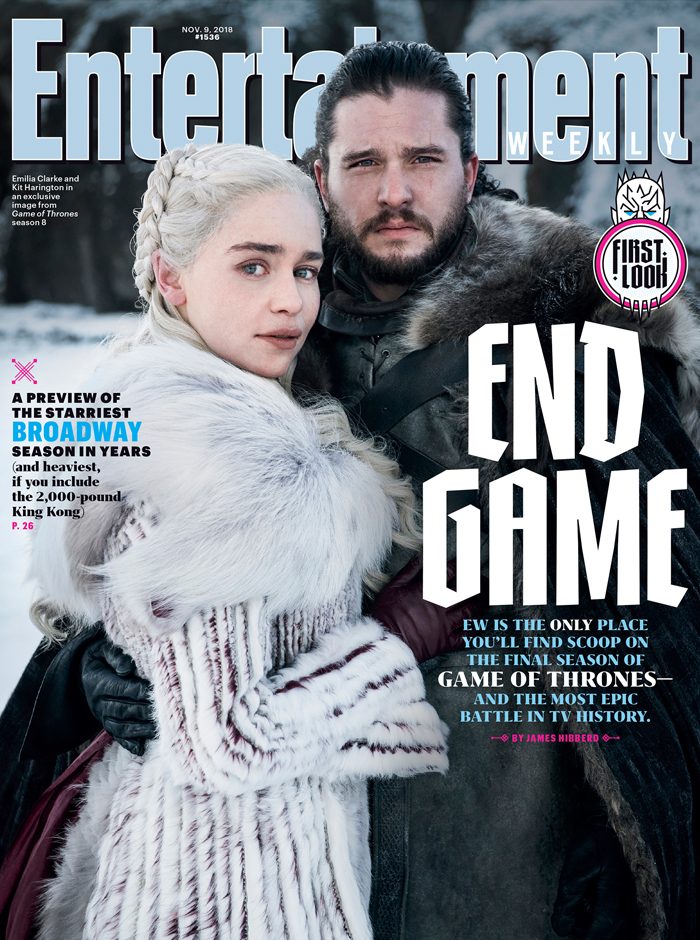 We've been writing a lot about the Game of Thrones prequel show lately, but don't forget that the mothership series still has to finish out its run and try to stick the landing. Entertainment Weekly shared this new cover image of Dany and Jon (who, as you'll recall, are both lovers and related by blood) standing in the snow. This is just a promotional photo, so it's still too early to try to figure out if these two know the truth about their, um, deeply troubling family relationship yet, but the ancient Targaryens were all about keeping their romances in the family, so we'll see if these two love birds embrace tradition or recoil in disgust when they inevitably find out the truth.
The best quote comes from Bryan Cogman, who started as an assistant to showrunners David Benioff and D.B. Weiss, wrote the show bible and several episodes of the series, and moved his way up to co-executive producer status:
"It's about all of these disparate characters coming together to face a common enemy, dealing with their own past, and defining the person they want to be in the face of certain death. It's an incredibly emotional haunting bittersweet final season and I think it honors very much what [author George R.R. Martin] set out to do — which is flipping this kind of story on its head."
There are a few key phrases to parse here. First, the bit about the characters defining the person they want to be in the face of certain death. That sounds appropriate for the bleak and often devastating world the show has created thus far, and with the story racing toward its conclusion, it's only a matter of time before more of our favorite characters start dropping like flies. Next, the use of the word "bittersweet" echoes Martin's own description of the end of this epic tale from back in 2015, when the author said this:
"People ask me how Game of Thrones is gonna end, and I'm not gonna tell them ... but I always say to expect something bittersweet in the end. You can't just fulfill a quest and then pretend life is perfect."
Cogman's quote about the final season "flipping this kind of story on its head" is perhaps the most interesting aspect here, leading me to believe that after a couple of seasons of more traditional fantasy storytelling, the show is ready to get back to what it used to do best when it was following Martin's template from his novels: surprise people with something unexpected.
EW says that for the final season of six episodes, shooting lasted 10 months – a schedule Harington referred to as "relentless". Clarke explained that "costumes are a bit better, hair and makeup a bit sharper — every choice, every conversation, every attitude, has this air of 'this is it.' Everything feels more intense."
Game of Thrones season 8 will arrive on HBO sometime in 2019.