Netflix To Release 'Roma' And Two Other Oscar Contenders In Theaters Before Streaming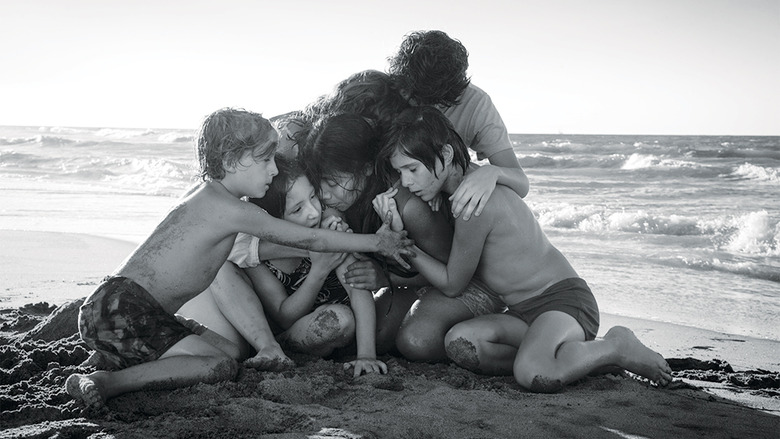 The critical hype around Roma is driving Netflix to break its own rules on theatrical releases. The streaming giant, which was once so uncompromising about its day-and-date theatrical and online release stance that it got banned from the Cannes Film Festival, is making a dramatic move for three of its biggest Oscar contenders this year.
The Netflix theatrical releases for Roma, The Ballad of Buster Scruggs, and Bird Box have be set several weeks before the three films' streaming debuts.
Netflix announced that it will debut three of its upcoming original films in limited release before the movies hit the streaming service. These films are the Alfonso Cuaron's intimate Spanish-language drama Roma, Joel and Ethan Coen's anthology series-turned-film The Ballad of Buster Scruggs, and Susanne Bier's Bird Box, which stars Sandra Bullock.
Roma has been singled out as Netflix's main Oscar hopeful, with many critics pointing to Cuaron's elegiac black-and-white family drama as the Best Picture front-runner alongside Bradley Cooper's A Star is Born. The film, which is Netflix's best reviewed original movie yet, will receive a three-week theatrical window, premiering on November 21, 2018 in New York, Los Angeles, and Mexico. Both The Ballad of Buster Scruggs and Bird Box will have a one-week theatrical release on November 8 and December 13, respectively, ahead of their debuts on Netflix.
/Film's Siddhant Adlakha said in his New York Film Festival review of Roma, "you owe yourself the unique experience of sitting down in a seat in order to walk through someone else's memory. It's like nothing you've ever heard or seen." And it seems like Netflix is honoring that request.
Netflix's decision to premiere these three films in theaters before their online debut is game-changing for the streaming service. Netflix has clashed with many theater chains and film festivals about its day-and-date policy, culminating in a messy feud with Cannes that resulted in the streaming service's ban from competition. But Netflix is ready to change, Scott Stuber, head of Netflix's film group, said in a statement (via Reuters):
"These upcoming engagements are following the success of our theatrical and Netflix releases of Private Life and 22 July. Netflix's priority is our members and our filmmakers, and we are constantly innovating to serve them."
But will Academy voters see this as an industry disruptor conceding to the rules of the Oscar game? Or as a transparent ploy for that coveted statuette? Despite the streaming giant's attempts to score a Best Picture nod in past years (first with Cary Fukunaga's harrowing child soldier drama Beasts of No Nation, then with a little more success with Dee Rees' four-time nominee Mudbound), some executives still see Netflix as a place where "movies go to die," according to Vanity Fair. But perhaps this move, and the critical reverie around Roma, could nudge favor for Netflix's film far enough to score a Best Picture nod.