'The Meg 2' Is In The Works, Waiting For Official Greenlight To Eat More Swimmers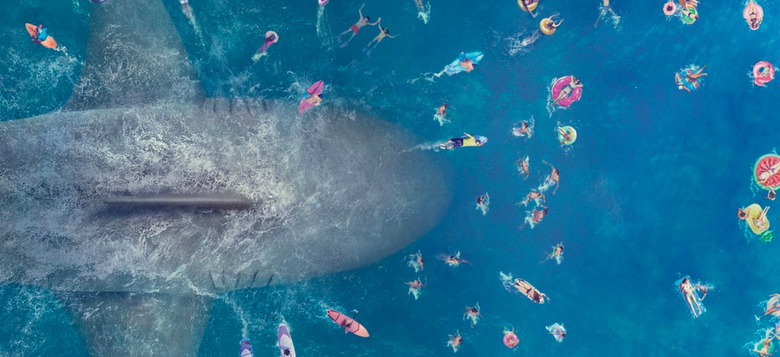 If you enjoyed The Meg and want more big-ass shark action, you might be in luck. Word has it that The Meg 2 is very early stages, and while Warner Bros. has yet to greenlight a sequel, talks have begun. There's an official sequel to the Meg novel, titled The Trench, which should make creating a film sequel a lot easier when the time comes. But will Jason Statham return to battle a giant fish once again?
The Meg was the most successful U.S.-Chinese co-production ever, hauling in $527.8M worldwide. When a genre film rakes in this much dough internationally, a sequel is usually a given. And while nothing is official yet, Deadline confirms that a sequel to the giant shark movie is in the works. The Meg executive producer Catherine Xujun Ying said: "It's still in the very early stages, but we're working on it. We're trying to keep it secret at this time."
There's no script yet, and for things to move forward, Warner Bros. needs to give the sequel a thumbs up. But all signs point to a Meg sequel being inevitable. And if it happens, filmmakers will have something to work with. Steve Alten, author of Meg, the novel the first film is based on, already wrote a sequel in 1999. Titled The Trench, the follow-up finds Jonas Taylor (the character played by Jason Statham in the movie) once again dealing with aquatic terror. Here's the synopsis:
Four years after the incident at the Mariana Trench that unleashed a pregnant Megaladon, Jonas Taylor now houses her one surviving offspring at the Tanaka Institute. Deep in debt, Taylor has turned to an eccentric billionaire to help keep the institute afloat, but it doesn't come without a price. Drawn into a web of deceit and lies, plagued by nightmares of his own death, Taylor must once again face frightening monsters of unimaginable power. Only this time, it's not just the sharks he has to watch out for.
Whether or not the sequel sticks to this story, or crafts something completely different, remains to be seen. Before The Meg hit theaters over the summer, Statham expressed interest in returning for a sequel. Speaking with EW, the actor said:
"I think it's like anything in this day and age — if it makes money, there's obviously an appetite to make more money. And if it doesn't do well, they'll soon sweep it under the carpet. But that's the way Hollywood works. Everyone tries to make a good film, and it lies in the hands of the audience. People are the ultimate decider; the audience is the decider of whether anything gets to be a sequel or not."