New 'Overlord' Posters Have Hidden Messages That Unlock Early Screenings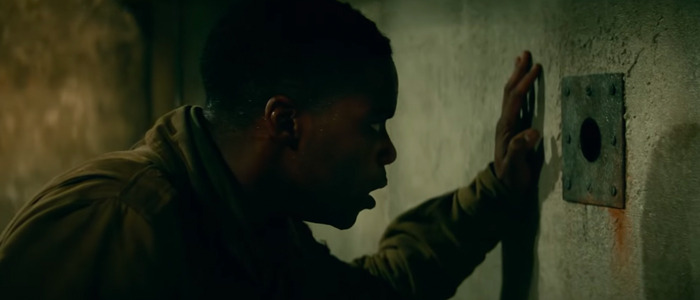 Overlord, Paramount's new World War II horror movie about a group of paratroopers who cross enemy lines and fight Nazi zombies, is set to swoop into theaters in a few days. But this is also a Bad Robot Production, and where there's a bad robot, you know there's a viral campaign not far behind.
Three newly-released Overlord posters have hidden messages embedded on them, and with a bit of detective work, fans can unlock tickets to early screenings. Keep reading to find out how.
Overlord Posters
This morning, Paramount unveiled three new Talenthouse posters for the upcoming movie, and some sneaky instructions for how to unlock the hidden messages that lie within. When users upload these photos to their Instagram story and use the Jaipur filter, the message appears: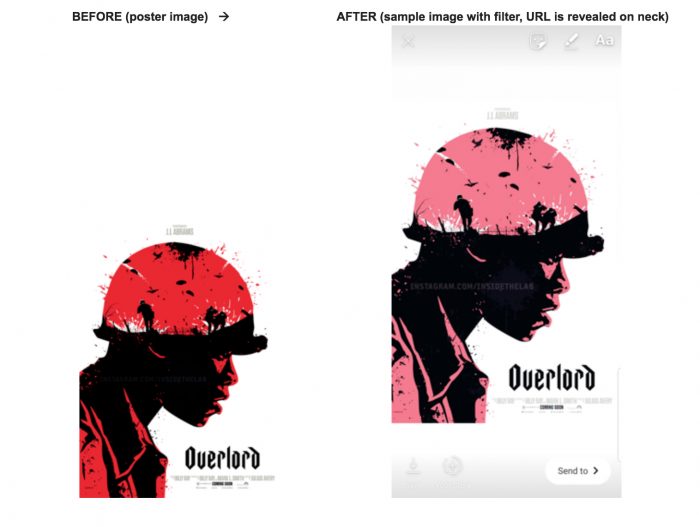 It leads to an Instagram handle: @InsideTheLab, a reference to the creepy Nazi lab where all sorts of god-awful experiments are performed in the film. That Instagram feed contains a grid of photos, and when you click through each one of them, their captions display the following message:
Behind the wall, their darkest fears will be uncovered.
In the lab, their purpose will be revealed.
Below the surface, their secrets must be destroyed.
In one of the posts on the feed, there's a message from one of the movie's cast members inviting you to early screenings:
View this post on Instagram
A post shared by Inside the Lab (@insidethelab) on
At this link, you'll find free advance tickets to screenings in the following cities:
Atlanta
Boston
Chicago
Dallas
Troy
Houston
Las Vegas
Burbank
New York
Orlando
Tempe
San Diego
San Francisco
Seattle
South Miami
Hanover
King of Prussia
Washington, DC
This whole thing is very much in line with J.J. Abrams' tried-and-true marketing tactics as a producer, going back a decade when he and Paramount debuted the Cloverfield trailer without even putting the title of the movie in the preview. That film franchise in particular has been the beneficiary of many viral ARG campaigns, allowing fans insight into characters like 10 Cloverfield Lane's Howard Stambler (John Goodman) and the relationship he had with his daughter, which was only hinted about in the film itself. This campaign doesn't provide any illuminating information about characters, but it does give audiences a chance to see the film early (which I'd always prefer to unlocking character bios).
Overlord is directed by Julius Avery and stars Jovan Adepo, Wyatt Russell, Pilou Asbaek, Jacob Anderson, and Bokeem Woodbine. It officially hits theaters on November 9, 2018, but if you're able to snag early tickets, the screenings in those cities are being held on November 7, 2018. Read our review of the movie right here.