'Between Worlds' Trailer: Nicolas Cage Battles The Supernatural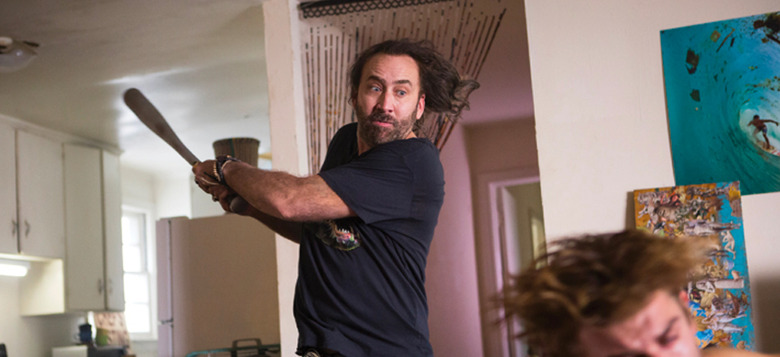 Fresh off his acclaimed work in Mandy, Nicolas Cage appears to be back on his bullshit with Between Worlds. Of course, Cage is bound to turn in a memorable performance – he always does. In the thriller, Cage plays a man trying to contact his dead wife and daughter with the help of a medium. From the look of things, it doesn't go so well. Watch the Between Worlds trailer below.
Between Worlds Trailer 
It's doubtful Between Worlds will generate as much great buzz as Nicolas Cage's recent film Mandy. For one thing, early reviews for Between Worlds haven't been great. For another, this trailer makes the movie look like one of Cage's lesser efforts. But even if the film turns out to be subpar, I'm positive Cage will do great work. He never phones in a performance, and that's what makes him one of the best.
In Between Worlds, Cage plays "a down-on-his-luck truck driver haunted by the memory of his deceased wife and child. He meets Julie, a spiritually gifted woman who enlists Joe in a desperate effort to find the lost soul of her comatose daughter, Billie. But the spirit of Joe's dead wife Mary proves stronger, possessing the young woman's body and determined to settle her unfinished business with the living." Franka Potente plays Julie, the medium, while Penelope Mitchell is Billie.
Between Worlds is just one of six movies to feature Cage this year. Besides the aforementioned Mandy, the ever-busy actor appeared in Looking Glass and 211, and leant his vocal talents to Teen Titans Go! To the Movies and Spider-Man: Into the Spider-Verse.
I know Cage has become a walking, talking meme for many at this point in his career, but I firmly believe he's still a great actor. He gives every role his all, and approaches movies in ways other actors would never dream of. Can it get weird sometimes? Absolutely. But that doesn't mean it's bad. Ethan Hawke put it best when he said: "I'm kind of obsessed with Nic Cage. He's the only actor since Marlon Brando that's actually done anything new with the art of acting; he's successfully taken us away from an obsession with naturalism into a kind of presentation style of acting that I imagine was popular with the old troubadours."
Between Worlds opens on December 21, 2018. Here's the official poster.