'The Edge Of Seventeen' TV Series Pilot Has Been Officially Ordered By YouTube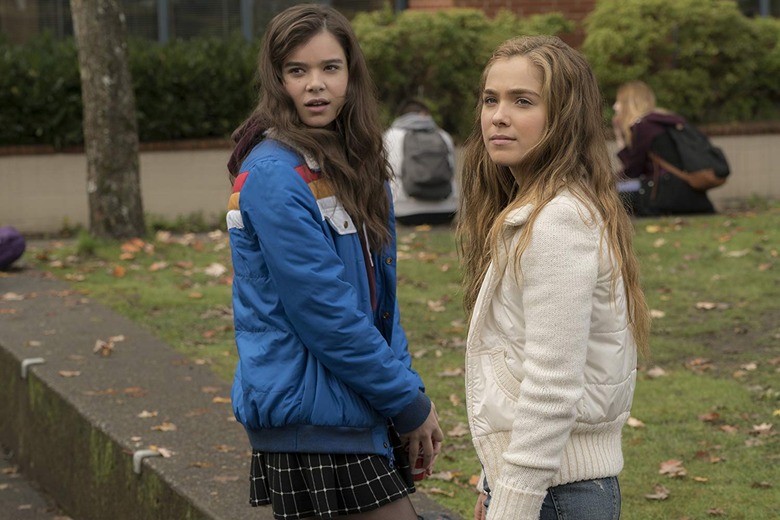 The Edge of Seventeen continues to make its way from the big screen to the small screen, as YouTube gives a pilot order to a half-hour comedy series adapting the critically acclaimed 2016 dramedy starring Hailee Steinfeld.
But The Edge of Seventeen TV series won't be a sequel or remake, or even a spin-off as had been previously reported. Much like FX's successful TV series adapting the Coen Brothers' classic crime drama Fargo, The Edge of Seventeen TV series will only be loosely inspired by the Kelly Fremon Craig film.
Deadline reports that YouTube has ordered a pilot for The Edge of Seventeen TV series, which is being developed as a half-hour comedy by STXtv.
The series, which is described as a "witty coming of age series" following a high school student and her best friend as they navigate love and life, has the blessing of the film's writer-director Kelly Fremon Craig, who will executive produce the pilot set to be written and directed by Annabel Oakes (Transparent). The series won't feature any of the film's original cast as it won't be a spin-off as previously reported. Instead, The Edge of Seventeen series is said to tell "new stories borrowing the tone of the film and its commitment to capturing the teen age truthfully, in the vein of Fargo FX anthology series' interpretation of the acclaimed movie," according to Deadline.
Deadline notes that Oakes was a big fan of the film — rightly so, because it's wonderful — and emerged as the person to lead the STX Entertainment adaptation. She seems to have won Craig's approval as well, who said in a statement:
"Annabel is an extraordinary writer with a voice like nobody else's. She's created a new set of characters so full of truth, humor, and specificity, I've fallen completely in love with them. For all of the reasons she makes an exceptional writer, she will make an exceptional director. I couldn't be more thrilled to support her talent and help her bring this to life."
"Annabel took inspiration from The Edge Of Seventeen and wrote an incredible script that is wholly her own, so when Kelly came to us about Annabel directing the pilot it just made sense," YouTube Originals Head of Comedy Dustin Davis, added.
The comparisons to FX's Fargo is interesting though unsurprising, since the Noah Hawley anthology series is the pinnacle of the film-to-TV adaptation wave currently overtaking Hollywood. I wonder if the comparison suggests that The Edge of Seventeen series will follow in Fargo's footsteps not just in using the spirit of the movie as a launchpad to create bold new stories, but in adopting the anthology format. It's rare to see a coming-of-age anthology series, and I wonder if Oakes could pull it off.
No release date has yet been set for The Edge of Seventeen.