'Homecoming' Review: Julia Roberts And Stephan James Thrill In Sam Esmail's Sleek, Mesmerizing Amazon Series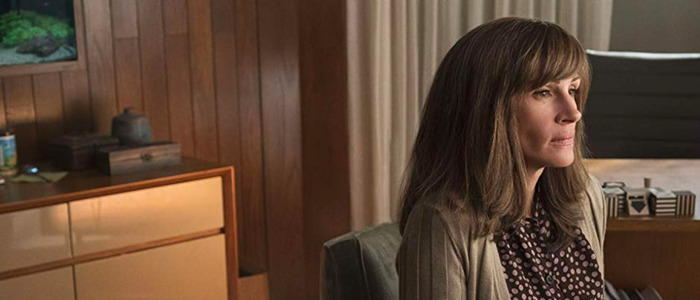 The movie star-to-television star transition doesn't always work. Regardless, when one of the most prominent film stars of the past few decades decides to dip their foot into television for the first time, it's a big freaking deal. Mega star Julia Roberts steps into her first regular television role, opposite rising star Stephan James, and seamlessly makes the move to the small screen in the Amazon thriller, Homecoming. It's a sleek, mesmerizing conspiracy thriller from Mr. Robot maestro Sam Esmail that is a throwback to classic thrillers and one of the most intriguing new series of the year.Based on the 2016 Gimlet Media podcast of the same name from Micah Bloomberg and Eli Horowitz (who also write the series), Homecoming follows Heidi Bergman (Roberts), a caseworker and therapist at the Homecoming Transitional Support Center, a facility which helps soldiers transition back to civilian life. Heidi interviews soldiers when they arrive, and her sessions become a daily part of their routine at the center, which includes practice activities to help them adjust back to the regular life, like job interviews and social activities. Bergman's key role seems to be helping the soldiers with their post-traumatic stress disorder.The series follows a dual timeline, which also sees Heidi four years later, living with her mother back home in her small hometown as a waitress. After a Department of Defense auditor (Shea Whigham) visits with questions after a claim of abuse against the center has been made, Bergman isn't interested in talking about her boss, Colin (Bobby Cannavale) and the bond she formed with one of her patients, Walter Cruz (James) that changed everything. But something is up here. Why isn't she being more forthcoming? Why doesn't she seem to not remember anything that happened just four years ago? The key question of the series: what happened?The series is beautifully shot, and Esmail uses many of the techniques employed in the game-changing Mr. Robot, but he takes it up a notch. For most of the season, moments in the past are shown in different aspect ratio than the scenes in the present. Esmail's trademark shot framing, in this case, wide angles accompanied by character-level zoom-ins, are a great fit for the eerie narrative. As the podcast is told in a series of therapy conversations and phone calls, you can tell that this is a podcast adaptation because many of those qualities still remain. Phone conversations are of the utmost importance and Esmail usually delivers them side-by-side on-screen while we hear the audio in the format of the call. This is the same with the therapy sessions, which reel viewers in as soon as Roberts' Bergman hits play on her tape recorder. As groundbreaking as Mr. Robot was, Homecoming may go down as equally inventive, using these audio cues paired with visual techniques to transform what otherwise would be just a series of painstaking conversations between two people into something truly cinematic.The thriller is brimming with paranoia all throughout, but it's never too thick with it, and at the same time, there is no shortage of it. There is some wit and camaraderie as well, with lighter moments providing well-needed laughs. Overall, the show is a mix of timely conspiracies surrounding government operations and throwbacks to classic Hitchcockianthrillers. The series' score solidifies this, taking cues from the sounds of '70s thrillers. Although the series takes place in 2018 and 2022, you may be warped into thinking this is set in another era.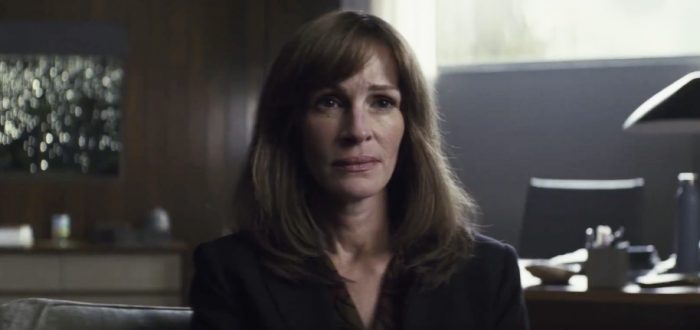 Roberts is at her best with a top-notch performance, even if it's more understated than her typical work. You could almost even think of her in a dual role, diving into both versions of Heidi. She goes from warm and helpful to cool, calm and collected to dazed and suspicious in an instant. If Homecoming catches on, expect Roberts to be a major contender for awards.James, who is in the midst of a moment with Barry Jenkins' If Beale Street Could Talk,, proves he's one of the best new talent discoveries of the past few years. The switch from Walter's optimism to a tormented soul is as good as Roberts' two versions of Heidi. The Roberts/James combo is a formidable pair and they play off of each other incredibly well.  The supporting group delivers as well, with Cannavale giving an addictive, love-to-hate turn as Heidi's shady, conniving boss, Whigham as the honest investigator digging into the case when there aren't many clear benefits for him, Sissy Spacek as Heidi's concerned mother, and Marianne Jean-Baptiste as Walter's no-nonsense, over-protective mother.Homecoming isn't that interested in giving explicit answers, and considering it already has a two-season order at Amazon, there are many directions they could take the material in for its sophomore run. So viewers should be prepared for the long haul.I'm not going to act like Amazon hasn't had great television shows before, but with Homecoming, the streamer has something really special that could ultimately change the tide. At the very least, this could be a new era for Amazon. This is a top-notch series and Julia Roberts sinks her teeth into a role like we haven't seen in some time. It's must-see TV.
***
Homecoming debuts November 2, 2018 on Amazon Prime.