New Blu-Ray Releases: 'Incredibles 2', 'Creepshow', 'The Spy Who Dumped Me', 'The Princess Bride', 'Sorry To Bother You'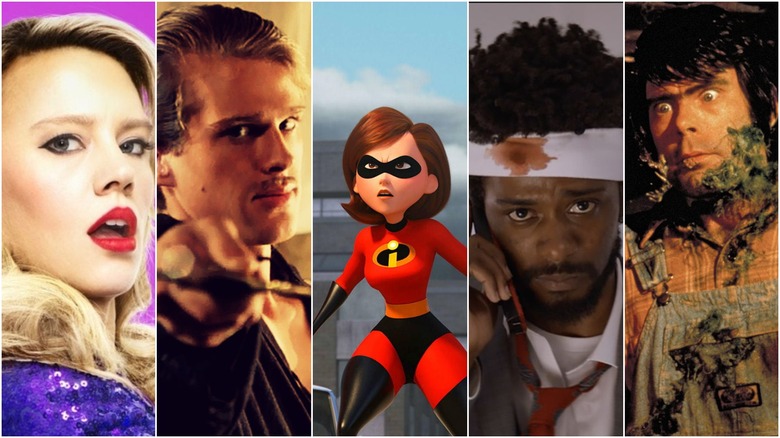 (Welcome to Not Dead Yet, a feature dedicated to new Blu-ray releases and what special features you should be excited about. Because yes, some of us still like to own physical copies of our movies.)
Here are the new Blu-ray releases and their special features you should check out this week and beyond.
Now Available on Digital, Available on Blu-ray November 6
Fans waited 14 years for a sequel to Pixar's The Incredibles, and they finally got it in the form of Incredibles 2. Was it worth the wait? Sort of! Incredibles 2 is bursting with jaw-dropping action beats – scenes where character zoom about the digital landscape at break-neck speed, sweeping us right along with them. These moments are what make the movie so special, and they're also what director Brad Bird excels at. But Incredibles 2 is also bloated, and for a film that features so much action, it's weirdly inert. That's not to say the film is a wash. The cast – particularly Holly Hunter as Helen Parr / Elastigirl – shine. And I love the way new character Evelyn Deavor (Catherine Keener) is animated – always in a slouching or laid-back pose, head titled. Yet when Incredibles 2 ended, I was left feeling a little empty. It can't hold a candle to the original film, and it's probably best to let the series end here. Still, it's fun to watch the family of superheroes gather together to deal with problems both domestic and fantastic.
Special Features to Note:"Super Stuff" is a fun featurette in which the animators talk about how big the movie is, and all the elements involved in the movie's complicated story: action, comedy, spy movies. "It's all of those things in a big caramel candy corn" says Brad Bird. The animators also discuss how the first film was set up to look like it took place in the 1950s, while this sequel was supposed to be in the 60s. "Retro-futurism" is the term applied the most here. 
Beyond this, we get featurettes focused on each of the film's main characters. Here, Brad Bird reveals that Mr. Incredible as a character is a blend of both his own father, and himself.
In addition to this (and more), there are a wealth of deleted scenes. Unlike deleted scenes from live-action films, these are cobbled together from storyboards and test animation. Brad Bird calls them "Scenes that seemed like a good idea at the time." Among these we have an alternate opening, in which the family deals with the fall-out of the explosion of their home (something that happened in the first movie). There's also another alternate opening where the Bob and Helen visit Kari, the babysitter from the first movie. Kari had her memory wiped after witnessing baby Jack-Jack's powers, and she's never been right in the head since. The best of the bunch is a deleted scene that finally reveals Frozone's never-seen wife Honey. After witnessing a scenario that might need Frozone's attention, she intentionally hides his super-suit to keep him from going out. Bird explains here that everyone thought it was better to have Frozone's wife remain seen and not heard. 
Special Features Include: 
All-New "Auntie Edna" Mini-Movie - When Bob Parr visits super-suit designer Edna Mode looking for help with his high-energy toddler Jack-Jack, Edna pulls an all-nighter designing a suit to harness the baby's seemingly limitless powers.
10 Deleted Scenes With Introductions - Suburban Escape,  Kari Revisited, Return of the Supers, Chewed Out, Late Audition, Slow Day, Frozone and Honey, Restaurant Robbery, Fashion Show and Security Breakdown.
Super Stuff - From buildings and vehicles to costumes and props, every action movie requires a lot of really cool stuff. Meet the makers and learn what it takes to design and build such a uniquely incredible world.
Heroes & Villains – A collection of mini-docs about the backstory and major design ideas behind the "Incredibles 2" characters — featuring voice actors, director Brad Bird, and Pixar artists talking about the many elements that make these characters feel real.
Ralph Eggleston: Production Designer - This short piece explores the many ways a single production designer has influenced the look, feel and character of the Pixar universe, culminating in "Incredibles 2."
Strong Coffee: A Lesson in Animation with Brad Bird - Brad Bird's passion for animation dates back to his childhood and mentorship under Disney's Milt Kahl, and that enthusiasm and powerful insight emanates from every film he's made. Take a deep dive into Brad's early years at Disney Animation Studios and his time at Pixar.
Paths to Pixar: Everyday Heroes - At its heart, "Incredibles 2" is about family dynamics and the challenges of being a working parent. Meet the parents of Pixar as they discuss their personal connections to the film and their experience with stretching to balance work and family.
SuperBaby – A documentary/hip hop music video hybrid hosted by Frankie and Paige from Disney Channel's Bizaardvark. This piece explores how Jack-Jack came to life onscreen — from design to special effects to animation — all set to a hot beat.
Commentary – Get inside commentary from animators Alan Barillaro (supervising animator), Tony Fucile (supervising animator, story artist and character designer), Dave Mullins (supervising animator) and Bret Parker (animation second unit and crowds supervisor).
Theatrical Short: "Bao" - An aging Chinese mom suffering from empty nest syndrome gets another chance at motherhood when one of her dumplings springs to life as a lively, giggly dumpling boy.
Making "Bao" - Director Domee Shi shares her secret recipe for making an animated short — discussing how her rich cultural heritage, unique relationship with her mom, and her love of food all informed the making of the food-fantasy "Bao."
Outtakes & Stories - Raccoon Fight Story, Evelyn Animation Outtakes, Puppet Animator Interview, Outtakes Goofy Arms Story and SuperBaby Music Video.
Character Theme Songs, Vintage Toy Commercial TV Spots , Toolkit Montage and Global "Incredibles 2" Trailers
Creepshow
In 1982, George Romero and Stephen King teamed up for Creepshow, the ultimate horror anthology film. Goofy, gory and loaded with fantastic practical effects, Romero and King channelled the glory days of EC comics to tell several tales of terror. A rotting ghoul returns from the grave in search of a cake (yes, really). A dumb hick succumbs to an infection from outer space. A man having an affair with a married woman runs afoul of the woman's husband. A crate containing a bloodthirsty monster might be the solution to an unhappy man's problems. And roaches infest a clean-freak's sterile apartment. Some of these stories are better than others, but all are told with just the right amount of zest and style. Creepshow is more amusing than scary, but that doesn't diminish its power. More horror anthologies would follow this film, but none would live up to the ghoulish magic Romero and King created here.
Special Features to Note: Creepshow has never looked better than it does on this glorious new Blu-ray from Scream! Factory. In a new interview, Director of Photography Michael Gornick describes how he supervised this new 4K scan, and how he was able to extend in-camera effects in ways he wasn't able to back in the '80s. Gornick extended color affectations, and meticulously worked on color correction to make the film's lighting effects – lots of reds and blues – pop. As Gornick puts it, this is a new version of the film, but also an accurate version. This is, without question, the only version of Creepshow you should own.
Special Features Include: 
NEW 4K Scan Of The Original Camera Negative – Color Correction Supervised And Approved By Director Of Photography Michael Gornick
Audio Commentary With Director George A. Romero And Special Make-Up Effects Creator Tom Savini
NEW Audio Commentary With Director Of Photography Michael Gornick
NEW Audio Commentary With Composer/First Assistant Director John Harrison And Construction Coordinator Ed Fountain
NEW Terror And The Three Rivers – A Round Table Discussion On The Making Of Creepshow With John Amplas, Tom Atkins, Tom Savini, And Marty Schiff
NEW The Comic Book Look – An Interview With Costume Designer Barbara Anderson
NEW Ripped From The Pages – An Interview With Animator Rick Catizone
NEW The Colors Of Creepshow – A Look At The Restoration of Creepshow With Director Of Photography Michael Gornick
NEW Into The Mix – An Interview With Sound Re-recordist Chris Jenkins
NEW Mondo Macabre – A Look At Mondo's Various Creepshow Posters With Mondo Co-Founder Rob Jones And Mondo Gallery Events Planner Josh Curry
NEW Collecting Creepshow – A Look At Some Of The Original Props And Collectibles From The Film With Collector Dave Burian
Audio Interviews With Director Of Photography Michael Gornick, Actor John Amplas, Property Master Bruce Alan Miller, And Make-up Effects Assistant Darryl Ferrucci
Tom Savini's Behind-The-Scenes Footage
Horror's Hallowed Grounds – A Look At The Original Film Locations Hosted By Sean Clark
Deleted Scenes
Theatrical Trailers
TV Spot
Radio Spots
Still Galleries – Posters, Lobby Cards, And Movie Stills
Still Galleries – Behind The Scenes Photos
The Spy Who Dumped Me
It's becoming abundantly clear that Kate McKinnon is one of those actresses worth seeing in anything. Even if the film the SNL actress is appearing in isn't great, she usually is. McKinnon's natural charisma, and her talent for strange humor, make her incredibly compelling. I want to see her in everything. McKinnon is the highlight in The Spy Who Dumped Me, Susanna Fogel's mostly funny, surprisingly violent action-comedy. McKinnon and Mila Kunis play best friends caught up in a case of national espionage – a scenario that is funny because neither character knows what they're doing. The plot is so-so, but Kunis and McKinnon have a nice rapport with each other (although it's often painfully clear Kunis is not nearly as funny as McKinnon). When all is said and done, The Spy Who Dumped Me is fun. It's also action-packed, full of exciting action beats that put most full-fledged action movies to shame. I don't think The Spy Who Dumped Me is going to end up on anyone's top 10 of 2018 list, but it's damn entertaining to watch.
Special Features to Note: In a making-of featurette, director Susanna Fogel discusses how she and her writing partner David Iserson approached the film with indie movie sensibilities thrust into a big blockbuster. The way Fogel and Iserson saw it, The Spy Who Dumped Me is an action movie with people who shouldn't be in an action movie and action is the key ingredient here. Fogel very much wanted the film's action to be worth cheering about, and so she recruited Gary Powell, the man responsible for fight choreography on films like Casino Royale. The results paid off – the action in The Spy Who Dumped Me is great. 
Special Features Include:
Covert Operations: The Making of The Spy Who Dumped Me" Featurette"
Gary Powell: The King of Action" Featurette
"Makin' Friends with Hasan Minhaj" Featurette
Deleted Scenes
Outtakes
"Off Script" Featurette
The Princess Bride
Rob Reiner has never made a film as charming, as endearing, as wonderful as The Princess Bride. A fairy tale full of wry humor, swashbuckling adventure, and an unbeatable script from master writer William Goldman, The Princess Bride is an adventure well-worth its reputation. Some popular films disappoint – they can't live up to the hype. The Princess Bride isn't one of those films. Instead, it's a fantastic journey focused on Buttercup (Robin Wright) and Westley (Cary Elwes) and their everlasting love. The duo get swept-up in a fantastical adventure that somehow gets better every time you rewatch the film. And who can forget Mandy Patinkin as Inigo Montoya, on his quest for revenge? And André the Giant as Fezzik, the gentle giant? When The Princess Bride was announced as joining the Criterion Collection, several cinephiles complained. The film was too modern, too poppy, to join Criterion in their minds. But Princess Bride is a pure delight, and an excellent film to boot.
Special Features to Note: The majority of the special features on this superb Criterion release are imported over from previous DVD and Blu-ray releases. But there is a lovely new featurette devoted to the skill of William Goldman, the screenwriter of Princess Bride (and the author of the novel it was adapted from). As revealed here, Goldman – one of the best screenwriters in the history of the medium – dislikes the majority of his scripts. The only two he's actually happy with are Butch Cassidy and the Sundance Kid, and The Princess Bride. Goldman's Bride script ignores almost all of the standard "rules" for writing a screenplay – lots of CUT TO scenes; lots of literary terms; lots of camera instructions. Normally, this type of screenwriting is frowned upon. Goldman, however, could get away with it because he was so damn talented. 
Special Features Include: 
New 4K digital restoration, with 5.1 surround DTS-HD Master Audio soundtrack on the Blu-ray
Audio commentary from 1996 featuring director Rob Reiner, screenwriter William Goldman, producer Andrew Scheinman, and actors Billy Crystal and Peter Falk
Edited 1987 audiobook reading of Goldman's novel The Princess Bride by Reiner
New program about Goldman's screenplay
New program about Goldman's tapestry based on his novel
Archival interviews with Reiner, Goldman, and actors Crystal, Cary Elwes, Christopher Guest, Mandy Patinkin, Chris Sarandon, Fred Savage, and Robin Wright
New interview with art director Richard Holland
Programs about makeup, fencing, and fairy tales
On-set video diary filmed and narrated by Elwes
Five behind-the-scenes videos with commentaries from 1996 by Reiner, Scheinman, and Crystal
Trailer
PLUS: An essay by author Sloane Crosley and, for the Blu-ray edition, Goldman's introduction to his Princess Bride script from his collection Four Screenplays, in a lavishly illustrated, clothbound book
Sorry To Bother You
Nothing can prepare you for Boots Riley's batshit insane dark satire Sorry To Bother You. Analyzing class and capitalism, Sorry To Bother You is unabashedly political, unapologetically weird, and unlike anything you've seen before. Not all of it works – the move is perhaps ten or fifteen minutes too long. But one thing is clear: Boots Riley is a filmmaker to pay attention to. Sorry To Bother You is his feature debut, and he has immediately established himself as an auteur. Here, Lakeith Stanfield plays Cassius Green, a man in desperate need of a job. He ends up at a telemarketing company, where he discovers a talent for using a "white voice" on the phone. This helps him rise to the top of the company...and that's where things get insane. The less said the better, but along the way, Cassius turns on his friends, alienates his girlfriend (Tessa Thompson), and finds himself mixed-up in a scheme involving the nutso head of the company he works for (played memorably by Armie Hammer). Everything you've heard about this movie is true, and then some. To put it simply, Sorry To Bother You is going to break your damn brain.
Special Features to Note: 
Even though Sorry To Bother You is one of the most unique films of 2018, the Blu-ray is curiously lacking in special features. Perhaps a future edition will offer more. For now, we get a behind-the-scenes talk about the movie from Boots Riley. The filmmaker calls Sorry To Bother You "An absurdist dark comedy with magical realism and science fiction, inspired by the world of telemarketing," and that about sums it up – as wacky as that sounds. The fiercely intelligent Riley lays out his vision for the movie, and his process of casting. He's the type of storyteller you could easily listen to for hours and hours. Riley talks about how he wanted Sorry To Bother You to be artistically important, not just thematically important, and he definitely succeeded there. 
Special Features Include:
Beautiful Clutter with Director Boots Riley
Commentary with Director Boots Riley
Gallery
The Cast of Sorry to Bother You
The Art of the White Voice