Never-Before-Seen 'Nightmare On My Street' Music Video Images Surface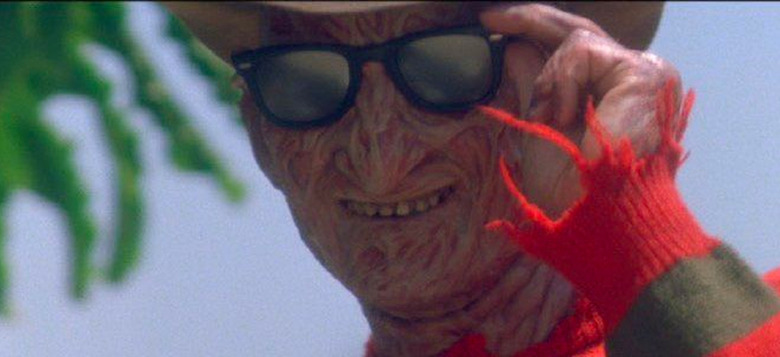 In 1988, DJ Jazzy Jeff (AKA Jeff Townes) and The Fresh Prince (aka Will Smith) released the single "A Nightmare on My Street" – a song clearly meant to exist within the world of the Nightmare on Elm Street franchise. There was only one problem: the song wasn't officially licensed by New Line Cinema, who own the Elm Street rights. As a result, a music video for the song had to be destroyed before being released. The general public has never seen a single frame from this long lost video...until now.
Never-before-seen images from the Nightmare on My Street video have surfaced, featuring Will Smith dressed up to look like Frankenstein's monster for some reason.
Nightmare On My Street
No one has ever seen the Nightmare on My Street video, and no one likely ever will – it was destroyed because it was too scary! Just kidding – it was actually destroyed due to a legal dispute with New Line Cinema. But thanks to newly surfaced set photos from music video director Gregory W. Harrison (via Movie Web), we can now take a peek at what the video could have been.
The images aren't the best quality, but they're bathed in enough red and blue neon light to make film nerds go wild. There's also an image of Will Smith decked out as some sort of creature that looks like Frankenstein's monster. You might assume that the video would try to incorporate Freddy Krueger in some way, but everyone was thinking outside the box here. No Freddy in sight. There's also a shot of a storyboard featuring a very Dali-like melting clock.
In "A Nightmare on Elm Street", the Fresh Prince recalls an encounter with Freddy Krueger, or "Fred" as the song calls him. "Now I have a story that I'd like to tell," the Fresh Prince begins. "About this guy you all know him, he had me scared as hell! He comes to me at night after I crawl into bed, He's burnt up like a weenie and his name is Fred! He wears the same hat and sweater every single day, And even if it's hot, outside he wears it anyway! He's gone when I'm awake but he shows up when I'm asleep, I can't believe that there's a nightmare – on my street!" That's right – he's "burnt up like a weenie."
The song goes on from there, and concludes with Freddy talking to the Fresh Prince on the phone. "I'm your D.J. now, Princey!" Freddy cackles. Terrifying!
The plan was to include the song on the soundtrack for A Nightmare on Elm Street 4: The Dream Master, back in the good old days when every horror movie had to end with a hip hop song about the film for some reason. Unfortunately, New Line decided against including "A Nightmare on Elm Street" after all. This isn't uncommon – Bond films often nix opening credits songs. However, when movie songs are rejected, they usually remain unreleased, or at least sit on the shelf for a few years. That didn't happen this time. Jive/RCA released the song on the album He's the DJ, I'm the Rapper. This is what resulted in the lawsuit from New Line that killed the music video. The song remained, however, with a new disclaimer sticker on the album stating that the song "is not part of the soundtrack...and is not authorized, licensed, or affiliated with the Nightmare on Elm Street films." The rest is history.