Rumor: Mickey's Runaway Railway Ride Coming To Disneyland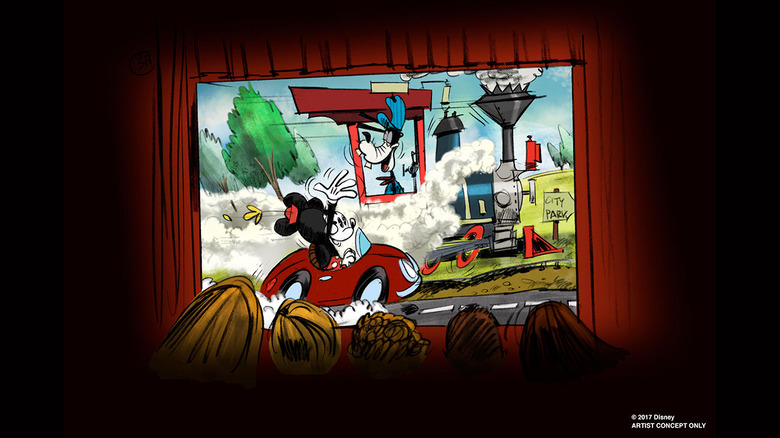 Mickey Mouse is set to make his solo theme park attraction debut with Walt Disney World's Mickey and Minnie's Runaway Railway. And according to the latest rumor, Disney Parks may be planning to expand their beloved corporate icon to even more theme parks across the world.
It seems that the new attraction may be heading to California's Disneyland as well, suggesting a brighter future for both the iconic mouse and for Disney's thought-to-be-doomed Toontown.
WDW News Today is the source of the latest Disney Parks rumor, which suggests that Mickey Mouse's long-awaited solo theme park attraction could open not just in Florida's Hollywood Studios theme park in Walt Disney World, but in Disneyland as well. After 89 years without a theme park ride to call his own, it's about time.
Mickey and Minnie's Runaway Railway is an immersive ride set to open at Hollywood Studios in Orlando in 2019, featuring an original story that takes the rider into a Mickey Mouse short where "anything can happen." The ride will replace Disney World's long-running The Great Movie Ride, which closed its doors last summer.
So where could Mickey and Minnie's Runaway Railway be placed in Anaheim's Disneyland? WDW notes that Disney is expected to announce the ride's second location in Mickey's Toontown, which could suggest a bright future for an area of the park that was presumed to not be long for this world. Perhaps Disney Parks is intent on preserving Toontown, especially anchored around a shiny new immersive ride piloted by Mickey Mouse. If so, this would indicate that Toontown will probably remain at Disney World for at least another decade.
Plus, Star Wars: Galaxy's Edge is set to open right next to Toontown, and this new ride could be very useful in managing the crowds rushing to enter that new area. Galaxy's Edge is set to open its doors in summer 2019 and the Disneyland version of the railway could open by the end of next year. The overflow traffic of those not getting into Galaxy's Edge will have to have somewhere to go.
None of this is confirmed yet by Disney Parks, but we may see an official announcement in the next few weeks.