Lena Dunham Has 'A Hope More Powerful Than The Sea' For Producers Steven Spielberg And J.J. Abrams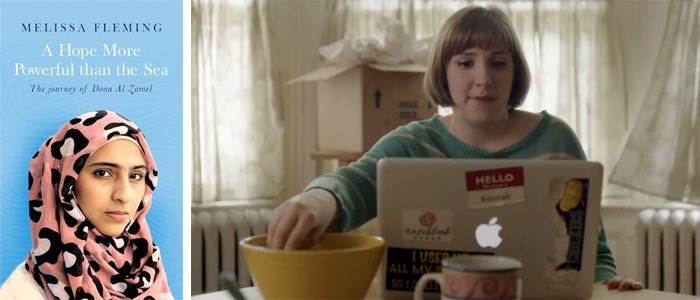 We may receive a commission on purchases made from links.
Lena Dunham has tackled a lot of first world problems as the writer, director, producer and star of the HBO series Girls, but her next project will see her taking on a story far removed from those kind of vapid, insufferable characters and stories.Steven Spielberg and J.J. Abrams are teaming up as producers for an adaptation of A Hope More Powerful Than the Sea: One Refugee's Incredible Story of Love, Loss, and Survival, a harrowing Syrian refugee tale, and Lena Dunham is their pick to write the script.
The true story by Melissa Fleming, the chief spokeswoman for the United Nations High Commissioner and Flatiron Books, focuses on Doaa Al Zamel, a mother of two who fled Egypt for Sweden on a boat that ended up shipwrecked, leaving her to fend for herself and her two children in the middle of open water. Somehow, she survived for days with only an inflatable water ring to help her stay afloat with her children. The official synopsis of the book from Amazon provides a little more detail:
Adrift in a frigid sea, no land in sight, just debris from the ship's wreckage and floating corpses all around, nineteen-year-old Doaa Al Zamel stays afloat on a small inflatable ring and clutches two little girls?barely toddlers?to her body. The children had been thrust into Doaa's arms by their drowning relatives, all refugees who boarded a dangerously overcrowded ship bound for Italy and a new life. For days as Doaa drifts, she prays for rescue and sings to the babies in her arms. She must stay alive for them. She must not lose hope.
A Hope More Powerful Than the Sea chronicles the life of Doaa, a Syrian girl whose life was upended in 2011 by the onset of her country's brutal civil war. Doaa and her fiance, Bassem, decide to flee to Europe to seek safety and an education, but four days after setting sail on a smuggler's dilapidated fishing vessel along with five hundred other refugees, their boat is struck and begins to sink. This is the moment when Doaa's struggle for survival really begins.
While it's nice to have a female filmmaker adapting the incredible survival of a mother and her children in the face of seemingly insurmountable danger, Lena Dunham doesn't seem like the most logical choice for this kind of story. But maybe it's exactly the kind of story she's been looking to tell since Girls came to an end in the spring of 2017. If anything, it's refreshing that Dunham is willing to venture outside of her perceived wheelhouse for an important story like this. Plus, with the blessing of Spielberg and Abrams, they clearly feel that she can do this story justice.
Variety reports Paramount Pictures is behind the film with Steven Spielberg and J.J. Abrams producing through their Bad Robot and Amblin Partners banners along with Arif Hussein on board as a producer. Amblin and Paramount will be releasing the film around the world, but there's no release date set yet. Stay tuned to see how this project develops.