'Overlord' Trailer Unleashes Monster Movie Mayhem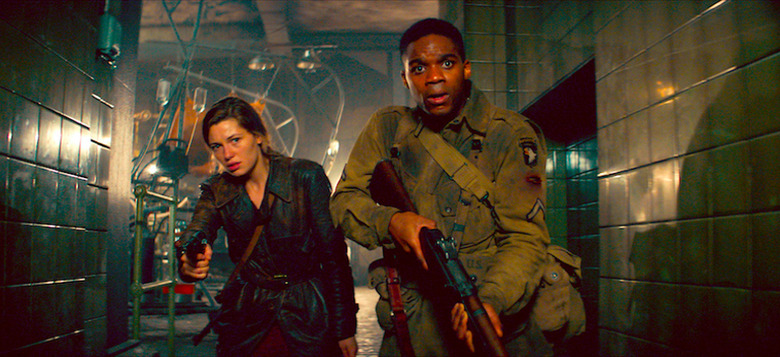 The frights don't end after October. November will see the release of Overlord, a World War II horror film from director Julius Avery that was once teased as being a Cloverfield movie. The bloody monster movie finds a group of paratroopers battling Nazi zombies, and really – what more do you need? Watch the latest Overlord trailer below.
Overlord Trailer
It seems particularly silly on Paramount's part to not release Overlord in time for Halloween. By all accounts, the horror film is an absolute blast, and would probably make for great Halloween viewing. But I'm sure a bunch of executives got together, ran some numbers, and decided November was a better time for Nazi zombies.
Overlord is set on the eve of D-Day, when "American paratroopers drop behind enemy lines to penetrate the walls of a fortified church and destroy a radio transmitter. As the soldiers approach their target, they soon begin to realize that there's more going on in the Nazi-occupied village than a simple military operation. Making their way to an underground lab, the outnumbered men stumble upon a sinister experiment that forces them into a vicious battle against an army of the undead."
That sounds very entertaining, and it apparently is. Reviewing Overlord for /Film at Fantastic Fest, Matt Donato wrote:
Avery's dark-as-midnight blend of WWII set pieces and Lovecraftian nightmare amalgamations punctuate balance suitable for fans of either subgenre. Leaking blood, discarded guts, chunks of facial flesh, open wounds exposing rows of teeth and chewed-up muscle tissue, detached heads pleading for help (spinal column visible) – all hard "R" material. Sometimes such devotion translates to lesser combat presence (Frankenstein's Army), but Avery's Speilbergian battlefield intensity is rip-roaring sensational. Opening minutes feature Boyce and company's in-flight B52 banter before anti-aircraft blasts start popping clouds around them, powerful and absurdly exciting once the vessel turns into a nosediving inferno. Sound design highlights the loudness of rifle blasts as war's spectacle violently thrusts unprepared, scared young men onto the frontlines of hostility unparalleled. This is a horror film, no question, but boogeymen aren't always needed to promote terror.
I'll admit that most of the trailers for Overlord have left me a little cold. The initial trailer, which piped in some AC/DC music, made me cringe. But this quick look at the film fairs much better, and if the early reviews are to be believed, this is something worth seeing.
Overlord, starring Jovan Adepo, Wyatt Russell, Mathilde Ollivier, John Magaro, Gianny Taufer, Pilou Asbæk, and Bokeem Woodbine, opens November 9, 2018.