Animated 'LEGO Star Wars: All Stars' Series Trailer Builds Across Every Era Of 'Star Wars'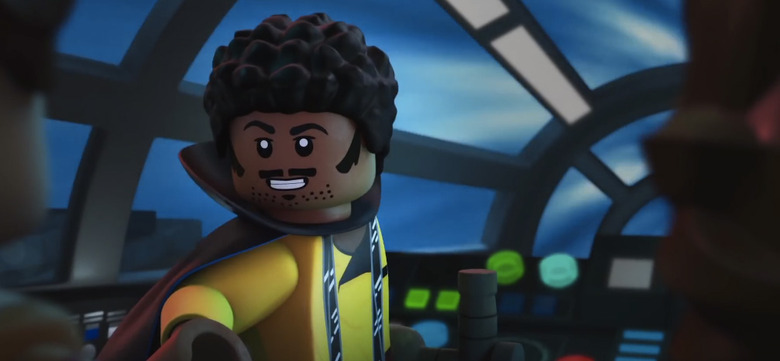 Star Wars Resistance debuted on The Disney Channel not too long ago, but it's not the only new animated series coming to TV from a galaxy far, far away.
Disney XD has announced a new animated series called LEGO Star Wars All-Stars, a combination of online shorts and half-hour series episodes that will give us adventures with the building block versions of our favorite Star Wars characters from all eras of the saga. The first LEGO Star Wars All Stars trailer has just arrived, and you can watch below.
LEGO Star Wars All Stars Trailer
Obviously this is geared more towards kids, as most animated LEGO programming tends to be. There's some slapstick comedy there, especially involving the Battle Droid who is appropriately named Roger. You know, because they say "Roger, Roger" all the time in the prequels and kids think that shit is hilarious.
Otherwise we also get to see young Han Solo and young Lando Calrissian in action with Chewbacca and L3-37 along with them. General Leia is involved, Kylo Ren and Rey can be seen having a lightsaber battle on Supreme Leader Snoke's ship, and Captain Phasma and Finn are duking it out again. This makes it seem like this might be a comedic spin on moments from the movies, not unlike how the LEGO Star Wars video games played out cinematics.
The series comes was developed for TV by Bill Motz and Bob Roth, working with Jill Wilfert and Erik Wilstrup as executive producers, all of which worked on LEGO Star Wars: The Freemaker Adventures.
If you (or your kids) are interested, the schedule to catch LEGO Star Wars All-Stars is a little tricky, but stick with us.
First, there will be five LEGO Star Wars All-Stars animated shorts rolled out from Monday, October 29 through Friday November 2 on the Disney XD YouTube channel and the DisneyNow app. Then a compilation special will air the final three shorts on Saturday, November 10 at 11am ET/PT on Disney XD and DisneyNow.
That's all for the shorts. After that, starting Saturday, November 17 and lasting every Saturday through December 8, there will be four half-hour episodes of LEGO Star Wars All-Stars airing at 11am ET/PT on Disney XD and DisneyNow.
This isn't exactly the best Star Wars programming, but maybe it's something that will keep the rugrats occupied while you try to cook Thanksgiving dinner or play Red Dead Redemption 2.