Lucasfilm's Boba Fett Movie Is 100% Dead, Says Kathleen Kennedy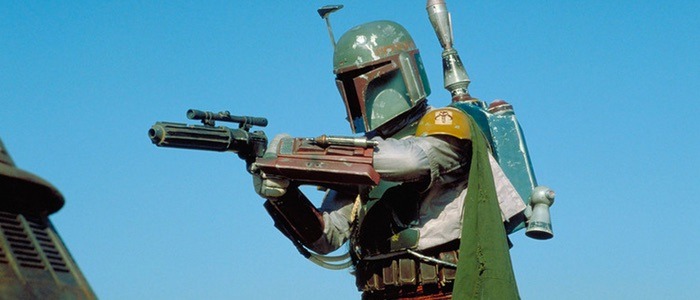 The writing was on the wall for this one, but now it's been confirmed: according to Lucasfilm president Kathleen Kennedy, a Boba Fett movie is no longer happening...at the moment, at least.
Last night, Kennedy attended a special awards season screening of Black Panther, where a Critics Choice Association journalist named Erick Weber apparently asked her to provide a status update about the long-rumored Boba Fett movie. Here's what she said:
Kathleen Kennedy just confirmed to me Boba Fett movie is 100% dead, 100% focusing on THE MANDALORIAN #StarWars

— Erick 𝕄𝕄𝕋 Weber (@ErickWeber) October 26, 2018


The Mandalorian, of course, is the new television series that Jon Favreau is working on for Disney Play, the company's upcoming streaming service. This news isn't super surprising, since Lucasfilm had never technically announced a Boba Fett movie in the first place, despite it being the subject of tons of speculation and reports online over the past few years.
A solo film based on Boba Fett, the bounty hunter who appeared in films like The Empire Strikes Back and Return of the Jedi, was rumored way back in early 2013, soon after Disney purchased Lucasfilm and began developing ideas for how to tell new Star Wars stories. Over the years, we've heard several updates about the potential movie, including that Chronicle director Josh Trank was attached to direct it (he was fired before production started). A different rumor later pegged Michael B. Jordan as the future star of the delayed movie, but that ended up not happening either.
More recently, X-Men: Dark Phoenix director Simon Kinberg was supposedly going to produce the film, and earlier this summer, Logan director James Mangold was in talks to write and direct a Boba Fett movie, but now it sounds like that won't be happening...at least, not any time soon. There's always the chance that after Favreau's The Mandalorian wraps up, Disney and Lucasfilm could dip back into the well of recognizable characters and craft a new story for Boba Fett.
But here's the thing: the Boba Fett character has always sucked anyway. (Search your feelings, you know it to be true.) He's the perfect example of style over substance – a cool design that turned out to be an empty vessel. Even when a talented filmmaker like Mangold was attached, I'd have much rather seen Lucasfilm skip this movie altogether and work on an original story...or at least a movie based on a character who actually has a decent personality.
Weber also caught up with Marvel Studios head Kevin Feige at last night's event and asked him a couple of quick questions, and we'll leave you with his responses here:
OK, here we go, 3 quick questions, answers direct from Kevin Feige's mouth
1) AVENGERS 4 trailer "before the end of the year"
2) Namor COULD make an appearance, still deciding IF & when
3) GUARDIANS 3 status "on hold"
— ???? (@ErickWeber) October 26, 2018