John Leguizamo Recounts 'Latin History For Morons' In Trailer For New Netflix Special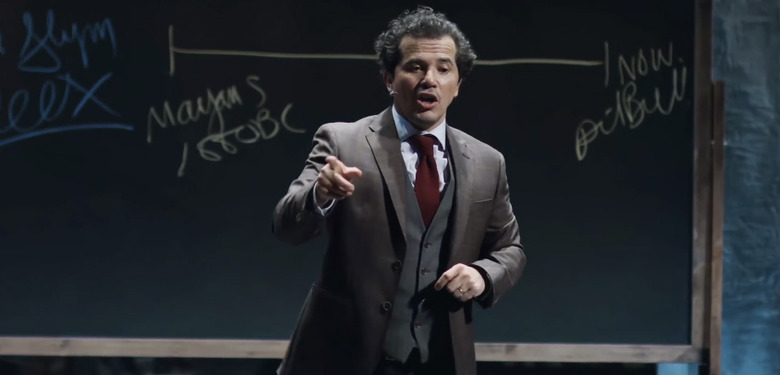 John Leguizamo might best be known for starring in the ill-fated Super Mario Bros. Movie, or maybe voicing Sid the Sloth in the Ice Age franchise. But he's also quite the accomplished character actor, appearing in movies such as Moulin Rouge, the John Wick franchise, Romeo + Juliet, The Lincoln Lawyer, and, of course, Spawn. However, Leguizamo shines the most in his ongoing series of one-man shows, and a new one called Latin History for Morons is coming to Netflix next month.
Watch the John Legauizamo's Latin History for Morons trailer below to see what he's up to this time.
John Leguizamo's Latin History for Morons Trailer
John Leguizamo takes the stage in this new special, dressed like a hip college professor. And this time he's taking a look back at the history of Latin people, starting all the way back with Mayan culture and stretching up to recent years in which Pitbull reigns supreme.
Latin History for Morons is framed around Leguizamo's son, who has been tasked with a "Heroes Project" before graduating from high school. However, Leguizamo is disturbed to find that there is basically zero mention of Latino icons from his son's education, so he takes it upon himself to provide an abridged version of Latin history to give him some inspiration for his project.
This show was a huge hit on stage with a sold out run at The Public Theater, some time at the Berkeley Repertory Theatre, and plenty of critical acclaim when it moved to Broadway. Entertainment Weekly gave it an A- grade and said, "Latin History is boisterous and joyful but also laced with sorrow, with Leguizamo beautifully communicating feelings of invisibility, inherited trauma, and even grief."
Leguizamo bridges history with contemporary culture as he addresses his son being bullied simply for being Latino, and the show is rife with references to modern day issues that stem from the ignorance and bigotry that has plagued Hispanic culture for decades. EW's review also says, "The way he fights to reclaim his identity in such a fraught era feels cathartic, a gasp for recognition and visibility that ought to echo far beyond the noisy streets of Broadway and Times Square. With Latin History for Morons, Leguizamo isn't merely teaching us what we've never been taught. He's giving us a space to cheer and cry, to laugh and listen."
As someone who fell in love with John Leguizamo's one-man shows when Freak hit HBO back in 1998 (directed by Spike Lee, for those interested), I've been a fan of his stage work ever since, and I can't wait to see what he's done with this latest crowning achievement.
John Leguizamo's Latin History for Morons arrives on Netflix on November 5, 2018.