'Star Trek: Lower Deck' Animated Comedy Series On The Way From 'Rick And Morty' Writer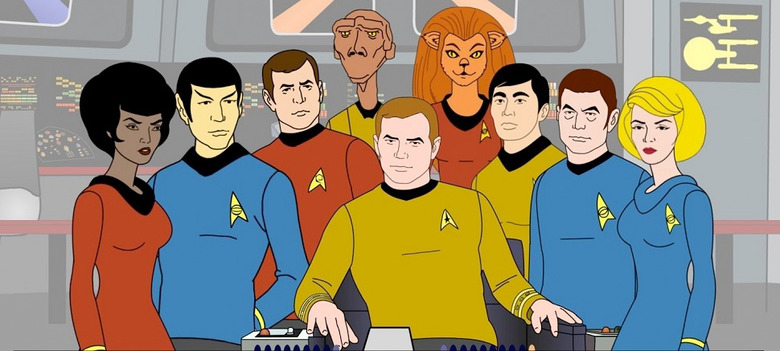 We may receive a commission on purchases made from links.
Comedy, the final frontier. These are the voyages of Star Trek: Lower Deck, a new animated comedy series that has just been given a two season order by CBS All Access.
Find out everything we know about the Star Trek Lower Deck animated series below.
The Hollywood Reporter has details on the Star Trek Lower Deck animated series coming from Star Trek reboot franchise producer and Star Trek Discovery executive producer Alex Kurtzman, who will be working with Rick and Morty writer's assistant turned head writer Mike McMahan on the project. In case you haven't guessed by now, this will be a comedic approach to Star Trek.
Unlike the original Star Trek animated series that ran for 22 episodes between 1973 and 1974 (seen above), Star Trek: Lower Deck will be an intentionally funny approach to Star Trek instead of a goofier, animated version of the original series which featured the voice of the original cast. As the title hints, the show will focus on the support crew on the lower decks of one of the least important ships in Starfleet. Since this is just a support crew, I wouldn't be surprised if we're going to see a lot of red shirts killed off each episode:
If Mike McMahan's work on Rick and Morty wasn't enough to convince you that he's the right man for the job, you should know that he's been a Trekkie for almost his entire life. In fact, his career has an interesting milestone in it where he created a Twitter account that posted episode plots for a fake season of Star Trek: The Next Generation. That resulted in a book deal with Simon & Schuster to write a guide to the non-existent season of the series.
Kurtzman sang McMahan's praises and passion for Star Trek:
"Mike won our hearts with his first sentence: 'I want to do a show about the people who put the yellow cartridge in the food replicator so a banana can come out the other end.' His cat's name is Riker. His son's name is Sagan. The man is committed. He's brilliantly funny and knows every inch of every Trek episode, and that's his secret sauce: he writes with the pure, joyful heart of a true fan. As we broaden the world of Trek to fans of all ages, we're so excited to include Mike's extraordinary voice."
CBS All Access is the perfect home for the series since they already play host to Star Trek Discovery, but apparently Star Trek: Lower Deck was shopped at other possible homes before landing in this obvious space. Secret Hideout's Heather Kadin, Roddenberry Entertainment's Rod Roddenberry, Trevor Roth (Star Trek Discovery) and Katie Krentz (formerly of Cartoon Network) will be executive producing.
McMahan is about to become very busy since he's also co-creating a new animated series called Solar Opposites with Rick and Morty co-creator Justin Roiland. That series has a two season order for 16 episodes right out of the gate. And although Star Trek: Lower Deck has also been given two seasons, the episode count for each season has yet to be determined, and it's not clear when the show will debut yet.
This all sounds like an intriguing idea, but taking a series that has been influential and mostly taken seriously by fans and giving it a comedic spin is no easy task. Sure, Star Trek has had its fair share of comedy over the years, but this sounds like it will be something completely different. I can't imagine it will be on the level of the animated Star Wars parodies from the folks at Family Guy, but likely more along the lines of Rick and Morty. That works well in an original series setting, but it can be tricky when you start playing in a world that has established mythology and expectations. This will certainly be something to keep an eye on whenever it debuts.
Are you interested in a comedy series set in the Star Trek universe?