Final 'Bohemian Rhapsody' Trailer Focuses On The Emotional Side Of Queen's Story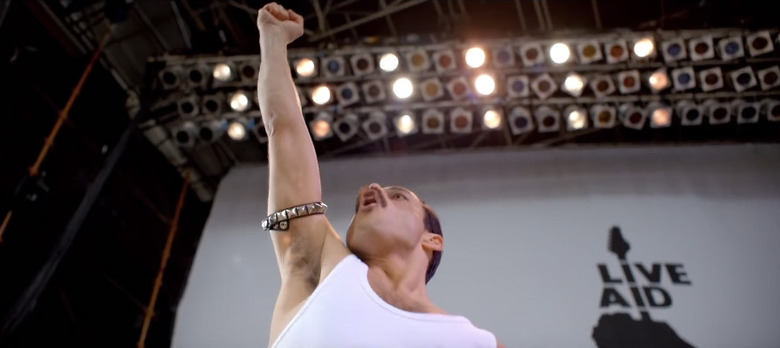 With just one week until the film starts hitting theaters, the final Bohemian Rhapsody trailer has arrived, and thankfully, this one offers a little more than a greatest hits assembly of cliched moments from a rock and roll biopic. Of course, the biopic tropes are still there, but this trailer actually hones in on the hardships that Queen faced, especially when it comes to frontman Freddie Mercury, played by Mr. Robot star Rami Malek.
Watch the final Bohemian Rhapsody trailer below.
Bohemian Rhapsody Trailer
For those who have been frustrated by the marketing that has seemingly avoided mentioning the fact that Freddie Mercury was gay, this trailer puts it right out there for everyone to hear. But it's not the only struggle on display as friendships crumble, families feud, and a lot of people look at each other with longing, tears in their eyes. It's a bit melodramatic to be sure, but it feels like Rami Malek's performance as Freddie Mercury might elevate everything.
Beyond that, this is bound to be a biopic that doesn't sit well with everyone, especially after Walk Hard: The Dewey Cox Story so fantastically lampooned the more cliche elements of music biz biopics like Walk the Line and Ray. This feels like it shares a lot of the same elements that were mocked in that movie, but again, it might all come together in a pleasing fashion, especially for Queen fans out there. At the very least we know the soundtrack will keep out toes tapping.
Bryan Singer directed Bohemian Rhapsody but was replaced by Dexter Fletcher towards the end of production. The rest of the cast includes Gwilym Lee as Brian May, Ben Hardy as Roger Taylor, Joseph Mazzello as John Deacon, and Lucy Boynton as Mary Austin.
Bohemian Rhapsody is a foot-stomping celebration of Queen, their music and their extraordinary lead singer Freddie Mercury. Freddie defied stereotypes and shattered convention to become one of the most beloved entertainers on the planet. The film traces the meteoric rise of the band through their iconic songs and revolutionary sound. They reach unparalleled success, but in an unexpected turn Freddie, surrounded by darker influences, shuns Queen in pursuit of his solo career. Having suffered greatly without the collaboration of Queen, Freddie manages to reunite with his bandmates just in time for Live Aid. While bravely facing a recent AIDS diagnosis, Freddie leads the band in one of the greatest performances in the history of rock music. Queen cements a legacy that continues to inspire outsiders, dreamers and music lovers to this day.
Bohemian Rhapsody hits theaters on November 2, 2018.