'The Marvelous Mrs. Maisel' Season 2 Trailer: The Emmy-Winning Amazon Series Gets Its Encore On December 5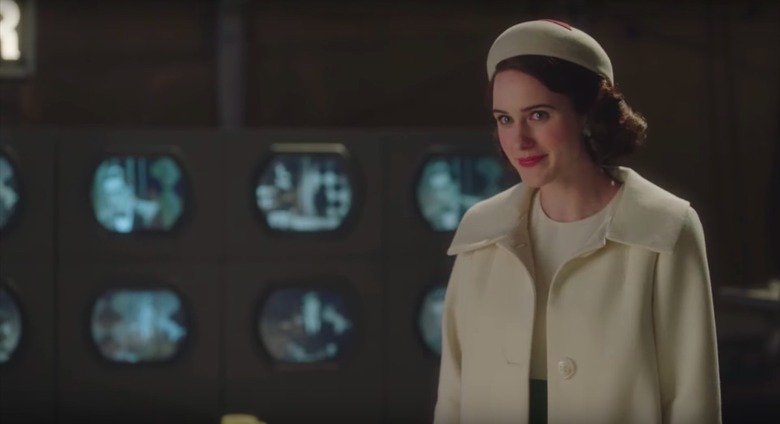 Midge Maisel is ready to be the biggest thing out there. And with the soaring, upbeat trailer for The Marvelous Mrs. Maisel season 2, it looks like she's well on her way. The Emmy-winning comedy series makes its return to Amazon Prime Video this winter, with a new season 2 trailer announcing the long-awaited premiere date. The best rising female comic is back, baby, and she's taking on all of New York City.
The Marvelous Mrs. Maisel Season 2 Trailer
The Marvelous Mrs. Maisel has already conquered the Emmys, nabbing five awards during the TV awards ceremony not long after it also swept the Golden Globes. Now, the titular Mrs. Maisel (a radiant Rachel Brosnahan) is ready to conquer the New York comedy scene.
The second season deals with the fallout of the rising comedian's takedown of Sophie Lennon, as she and her manager Susie Myerson (Alex Borstein) work their way up to success. But Midge's double life starts to take a toll on her, as her very Jewish parents (Tony Shalhoub, Marin Hinkle) pressure her to marry again after her disastrous separation with her unfaithful husband (Michael Zegen) who, ironically, has now turned into her biggest cheerleader. The zippy The Marvelous Mrs. Maisel trailer gives us a glimpse of all these season 2 plot points, while getting us in the 1950s mood with a fun cover of "Don't Rain on My Parade." Season 2, which premieres this December, couldn't come fast enough.
Here is the official synopsis for The Marvelous Mrs. Maisel season 2:
After Midge's triumph at the Gaslight, the fallout from her takedown of Sophie Lennon looms large, making her climb up the comedy ladder more challenging than ever. As the actual grind of being a comic begins to take its toll on Midge, the pressure to come clean to her family weighs on her – especially as her choices have a ripple effect on everyone around her.
The Marvelous Mrs. Maisel season 2 premieres on Amazon Prime Video on December 5, 2018.