'Bird Box' Trailer: Sandra Bullock Tries To Survive As Everything Goes To Hell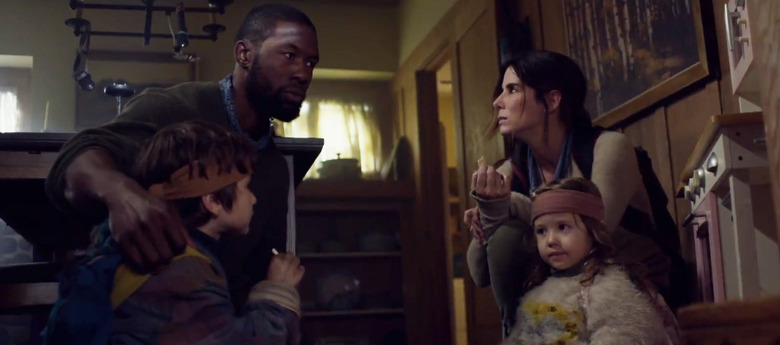 We may receive a commission on purchases made from links.
We've seen the end of the world come about in a variety of different ways thanks to decades of science fiction, but we've never seen it end quite like this.
Bird Box stars Sandra Bullock as the mother of two children who finds herself trying to survive as best she can when a mysterious creature starts destroying the world's population. But this isn't simply a monster eating people. Instead, anyone who sees this entity is driven mad by their worst fears and they end up killing themselves, almost like a horrifying version of a boggart from Harry Potter. The only way to survive is to keep your eyes closed. Watch the Bird Box trailer below.
Bird Box Trailer
Making this concept all the more terrifying is that Sandra Bullock's character Malorie has to keep her kids safe from this unknown terror that has been decimating the population for five years. Now their only hope of survival lies 20 miles down river, but the only way to make it is to venture into the woods blindfolded. As you can see in the trailer, that makes for suspenseful and frightening moments.
Bird Box is based on a book by Josh Malerman, which has been called a masterpiece of suspense. Our own Jacob Hall actually talked about this book on a recent episode of /Film Daily, and he says it's "scary as f***," so be sure to listen to that episode for the rest of his take on the story, free of spoilers.
Surrounding Sandra Bullock is an ensemble cast that includes Trevante Rhodes, Jacki Weaver, Rosa Salazar, Danielle Macdonald, Lil Rel Howery, Tom Hollander, Colson Baker, BD Wong, Sarah Paulson, and John Malkovich. My bet is a lot of them aren't going to make it.
Susanne Bier (The Night Manager) directs this tense thriller that has flares of A Quiet Place, but feels all the more terrifying due to the nature of pure fear. It easily looks like one of the best original movies Netflix has put forth yet, and it finally feels like they've made a step in the right direction towards bigger budget, high concept films.
When a mysterious force decimates the world's population, only one thing is certain: if you see it, you take your life. Facing the unknown, Malorie finds love, hope and a new beginning only for it to unravel. Now she must flee with her two children down a treacherous river to the one place left that may offer sanctuary. But to survive, they'll have to undertake the perilous two-day journey blindfolded.
Bird Box hits Netflix on December 21, 2018.