'Mary Poppins Returns' Sneak Peek Conjures Up Magical New Footage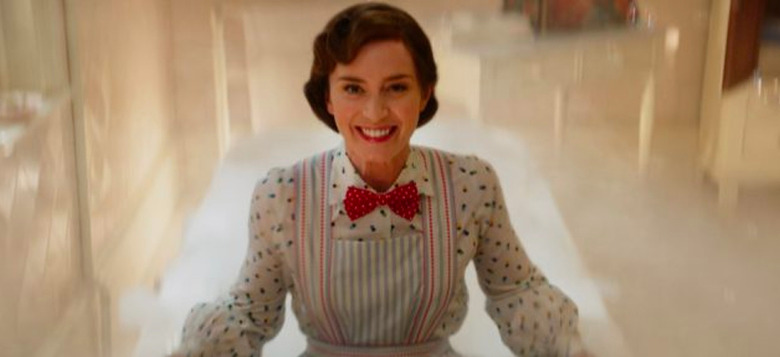 Mary Poppins Returns is destined to be another Disney hit, because it continues to look overwhelmingly charming. The sequel to Disney's 1964 classic finds Emily Blunt taking up the umbrella as magical nanny Mary Poppins, who once again has to help the constantly troubled Banks children. Lin-Manuel Miranda co-stars, along with Meryl Streep and more, with director Rob Marshall at the helm. A new Mary Poppins Returns sneak peek below provides us with yet another delightful look at the film.
Mary Poppins Returns Sneak Peek
Mary Poppins is back, and this time, she's out for revenge. No, wait, I'm sorry. That's not what's happening here at all. Instead, Mary Poppins Returns looks to be a heart-warming musical that brings the magic of the original Mary Poppins film to a whole new generation. Emily Blunt looks perfectly cast as Mary herself, and the cast around her – Lin-Manuel Miranda, Ben Whishaw, Emily Mortimer, Julie Walters, Dick Van Dyke, Angela Lansbury, Colin Firth, and Meryl Streep – is nothing to scoff at. And here's the synopsis:
Set in 1930s London, which is the time period of the original novels by P.L. Travers. The story follows Michael (Ben Whishaw) and Jane Banks (Emily Mortimer), who are now grown up. Michael is living with his three children (Pixie Davies, Nathanael Saleh, and Joel Dawson) and housekeeper Ellen (Julie Walters), in the house on Cherry Tree Lane. After Michael has a personal loss, Mary Poppins (Emily Blunt) comes back into the lives of the Banks family. She is joined by a street lamplighter named Jack (Lin-Manuel Miranda), and an eccentric cousin named Topsy (Meryl Streep).
/Films Jacob Hall visited the Mary Poppins Returns set last year, and came back very impressed, highlighting how committed the movie is to being a sequel to the 1964 film:
"The production team took this being a sequel very seriously. We saw concept art and models that showcased an exact recreation of the sets from the original movie and were even able to explore the Banks' house, a surreal experience for anyone acquainted with the original film. Production designer John Myhre explained the process of building a mostly practical Cherry Tree Lane."
At the same, Jacob also confirmed that Mary Poppins Returns is also an adaptation of P.L. Travers' Mary Poppins books, saying "The result is a remix of sorts, a 'greatest hits' of Travers' writing that borrows bits from across her entire work as everyone saw fit."
All of this sounds exciting, and the footage continues to dazzle. This might just be a great holiday movie for everyone.
Mary Poppins Returns opens December 19, 2018.