'Disenchantment' Gets A Two-Season Renewal, With More Episodes Coming To Netflix In 2020, 2021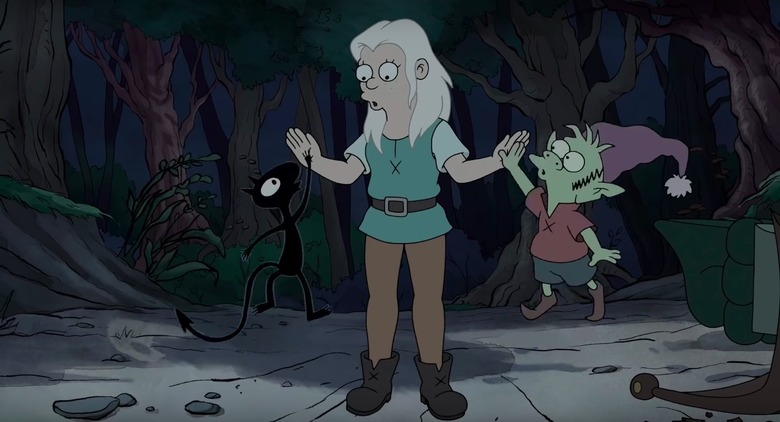 Netflix has renewed Disenchantment for not just one, but two seasons. The Matt Groening fantasy animated series has been picked up for season 3 and 4 by the streaming giant. The news of Disenchantment's renewal was announced in a cute animated teaser that teases the new episodes set to air in 2019, 2020, and 2021.
Disenchantment Renewed Announcement
Netflix is staying in Dreamland for at least the next three years. The streaming service ordered a two-season renewal of Disenchantment, an animated fantasy comedy from the mind of The Simpsons creator Matt Groening. According to The Hollywood Reporter, the order is for 20 additional episodes total, matching the initial pick-up of the series for two seasons (each of which has ten episodes) and bringing the grand total seasons of the show to four. Season two is set to air in 2019, while the newly ordered seasons three and four will air in 2020 and 2021, respectively.
"We're excited to continue this epic journey with Netflix. Stay tuned for more cranked-up suspense, infuriating plot twists, and beloved characters getting knocked off," Groening said, via THR.
Disenchantment features all-star comedy voice cast including Abbi Jacobson, John DiMaggio, Billy West and Maurice LaMarche, and debuted earlier this August to generally positive reviews. Critics praised the show's potential but dinged the series for lacking fresh comedy and the acerbic bite of Groening's earlier works.
But Netflix has thrown its weight behind animation lately, greenlighting animated shows from acclaimed filmmakers like Guillermo del Toro, producing buzzy animated remakes, and basically giving the Avatar: The Last Airbender alums free reign. Groening's pedigree speaks volumes and animation can be cheaply produced and quickly made — making Disenchantment a sure-fire renewal.
Here is the synopsis for Disenchantment:
After tackling modern times with "The Simpsons" and the future with "Futurama," producer Matt Groening steps into the past with "Disenchantment." The animated fantasy series geared toward adults takes place in the crumbling medieval kingdom of Dreamland. It follows the misadventures of hard-drinking young princess Bean, her feisty elf companion Elfo and personal demon Luci. The oddball trio encounters the likes of ogres, sprites, imps, trolls and human fools along the way.