'Black Monday' Trailer Takes You Back To The Worst Stock Market Crash Wall Street History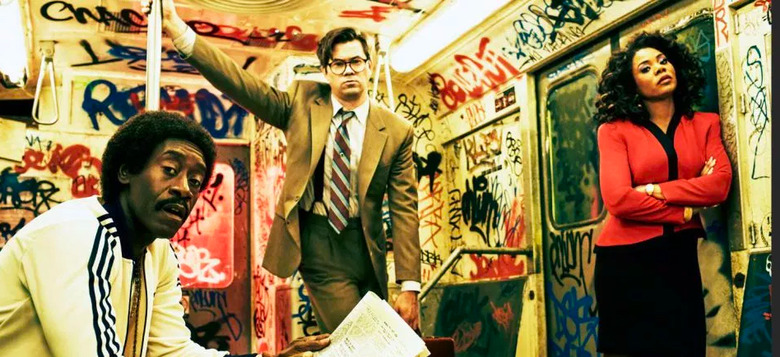 Showtime is ready to take you back to 1987, where Wall Street saw the worst stock market crash in its history, with Black Monday. The new series looks a little like The Wolf of Wall Street Meets The Big Short: The TV Show, and that might just be enough to draw in a crowd. Watch the very vintage Black Monday trailer below (which is very NSFW), featuring Don Cheadle, Andrew Rannells, and Regina Hall.
Black Monday Trailer
I haven't watched many Showtime shows since the end of the Twin Peaks revival, but I think I'm going to check out Black Monday. The series appears to have style to spare, and the cast is promising. Black Monday hails from executive producers Seth Rogen and Evan Goldberg, who also directed the pilot, and purports to tell the previously known story of what caused the October 19, 1987 stock market crash. Here's the synopsis.
BLACK MONDAY takes viewers back to October 19, 1987 – aka Black Monday, the worst stock market crash in the history of Wall Street. To this day, no one knows who caused it ... until now. It's the story of how a group of outsiders took on the blue-blood, old-boys club of Wall Street and ended up crashing the world's largest financial system, a Lamborghini limousine and the glass ceiling.
"Black Monday is a scathing comic commentary on the excess of the '80s," said Showtime president and CEO David Nevins. "Don Cheadle, Andrew Rannells and Regina Hall lead a hilarious cast that takes on blue-blooded Wall Street as the Bad News Bears of Wall Street trading firms."
Per Wikipedia, the Black Monday crash of 1987 "began in Hong Kong and spread west to Europe, hitting the United States after other markets had already sustained significant declines. The Dow Jones Industrial Average (DJIA) fell exactly 508 points to 1,738.74 (22.61%)...Possible causes for the decline included program trading, overvaluation, illiquidity and market psychology."
The stock market is an absolute mystery to me, so I have no idea what any of that means. But it doesn't sound good.
Black Monday was created by David Caspe and Jordan Cahan, who will serve as showrunners and executive producers, alongside Rogen and Goldberg. In addition to Cheadle, Rannells and Hall, Black Monday will feature Paul Scheer, Yassir Lester, Bruce Dern, Melissa Rauch, Horatio Sanz, Julie Hagerty, Vanessa Bell Calloway, Tim Russ and Jason Michael Snow.
Look for the Black Monday premiere on Sunday, January 20, 2019 at 10pm ET/PT.