'The Little Drummer Girl' Trailer: A New British Spy Series To Obsess Over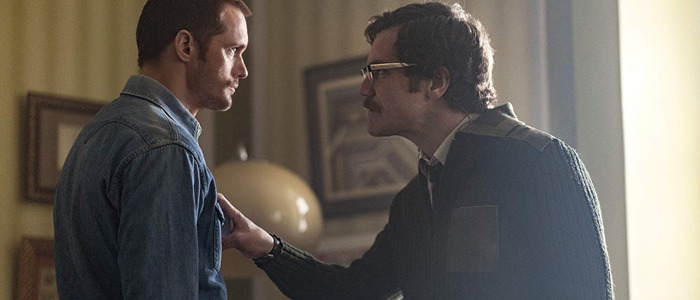 A couple of years ago, BBC One and AMC made waves with The Night Manager, an adaptation of author John le Carré's spy novel. Those networks saw the success of that show and jumped in on another le Carré adaptation, a 1970s-set thriller called The Little Drummer Girl. Oldboy director Chan-Wook Park marks his first entry into directing television with this limited series, and he's gathered a great cast that includes Michael Shannon, Alexander Skarsgard, and Florence Pugh.
Take a look at the newest The Little Drummer Girl trailer below.
The Little Drummer Girl Trailer
Florence Pugh has appeared in The Commuter, Lady Macbeth, Outlaw King, and more, but The Little Drummer Girl looks to give her one of her juiciest parts yet. In this riff on le Carré's 1983 novel, Pugh plays Charlie, "a fiery actress and idealist whose resolve is tested after she meets the mysterious Becker (Alexander Skarsgård) while on holiday in Greece. It quickly becomes apparent that his intentions are not what they seem, and her encounter with him entangles her in a complex plot devised by the spy mastermind Kurtz (Michael Shannon). Charlie takes on the role of a lifetime as a double agent while remaining uncertain of her own loyalties."
I'm a sucker for layered stories that feature actors playing characters who are themselves playing characters, and with this cast and a visual master like Chan-Wook Park (Stoker, Sympathy for Mr. Vengeance, The Handmaiden) behind the camera, this seems like a must-watch. Then again, I was also interested in The Night Manager, and I gave up on that one about halfway through because of the glacial pacing. I know le Carré's stories aren't always breathlessly told – remember, this is the same author who wrote Tinker Tailor Soldier Spy – but despite that, I hope this limited series picks up the pace a little.
Unfortunately, early reviews sound like this show gets off to a slow start. Here's an excerpt from THR's review:
For its opening two hours at least, Little Drummer Girl delivers surprisingly few thrills and hooks. Though it is more faithful to its source novel than Night Manager, the screenplay by Michael Lesslie and Claire Wilson strips out much of le Carre's moral and political anguish without adding enough of the sexy thriller elements that made Tom Hiddleston's buttock-baring spy romp into deluxe pulp television.
Still, I'll definitely be giving this a shot because they had me at "Michael Shannon plays an Israeli spy master."
The six-part series airs on BBC One starting on October 28. In the United States, it will air on AMC, where it will be presented in two-hour blocks for three nights in a row beginning on November 19, 2018.