11 Great Films From The 2018 New York Film Festival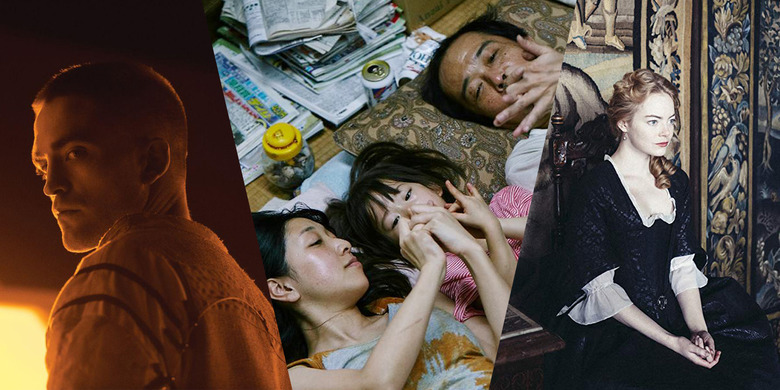 Global cinema lives at the New York Film Festival. The recently concluded 56th edition ran two straight weeks (four, if you're press) at the prestigious Lincoln Center, offering everything from experimental shorts to director talks to virtual reality films, though, as one might expect, the wide array of features is undoubtedly a central highlight. I've been attending the festival for five years running, and having caught a good majority of the 2018 slate— 27 films, the most I've seen at any festival — I can safely say it's one of the best lineups I've ever had the pleasure of experiencing.
NYFF56's Main Slate alone boasted films from 22 countries, a number that only grows once you factor in its experimental "Projections" section, its various shorts programs and numerous revivals — if you weren't around when Mother India played on the big screen in 1957, this would've been your chance — though what's especially commendable about the fest each year is its ceaseless commitment to showcasing boundary-pushing work. Mariano Llinás' La Flor for instance, a 14-hour Argentine genre-medley that goes from B-horror to musical to spy drama to meta-narrative (and beyond), was programmed in both three and eight parts over the course of the festival. 
I've reviewed a handful of this year's films already, though if it were feasible, I'd have written about every single thing I've seen. Of the those that I did manage to elaborate on, Barry Jenkins' Moonlight follow-up If Beale Street Could Talk stunned with the beauty of its filmmaking, while Alfonso Cuarón's Roma, his first film since Gravity, became a reminder of why the very act of going to the cinema is so transformative. Netflix reached deep into the past to resurrect Orson Welles, completing his mockumentary The Other Side of the Wind, while Jonah Hill painted the uncomfortable parts of nostalgia with Mid90s, his directorial debut. Ali Abbasi's Swedish genre mash-up Border pushed the possibilities of modern fairytales through its twisted metaphors, while worlds apart in Taiwan, Ling Yiang's A Family Tour captured the deafening reality of China's crackdown on outspoken filmmakers. The festival also played host to what may well become South Korea's first Best Foreign Language Film Oscar nominee, Lee Chang-dong's Burning, a mesmerizing mystery, while its "Projections" section fittingly showcased Diamantino, a raucous mish-mash of contemporary issues wrapped in magical (sur)realism and the weirdest thing I've seen all year.
As you can no doubt tell, the fest is a joy to attend, showcasing cinema from all across the world and on all points of the stylistic and genre spectrums. Apart from the ones I've already written about (and those reviewed by Marshall Shaffer: The Ballad of Buster Scruggs, and American Dharma) here are 11 more films — who needs round numbers? — that represent the very best cinema put on display by the New York Film Festival.
1. 3 Faces (Jafar Panahi)
In what feels like an ode to the late Abbas Kiarostami (Panahi's frequent collaborator), Iran's premier banned filmmaker downplays the self-reflexivity of recent projects like Taxi and This Is Not a Film — each made illegally, and about their own making — and turns his camera away from himself, even though he's a major character. Upon receiving a video in which a young village girl, Marziyeh, appears to commit suicide after being barred from attending an acting conservatory, Panahi contacts actress Behnaz Jafari (also playing herself), for whom the video was originally intended. As the duo road-trips to Marziyeh's backward, mountainous town, they begin with the intention of solving the mystery of her disappearance. However, they soon find themselves on a bizarre journey of cultural discovery, immersing themselves in distant languages, customs and beliefs in order to find answers, like reconnecting with roots they didn't know they had lost.
2. Ash is Purest White (Jia Zhangke)
Jia Zhangke is a journeyman, and the journey he takes us on in Ash is Purest White is one of an evolving nation, grounded in the rocky relationship of two criminal characters. Beginning in post-industrial Datong at the turn of the century, Qiao (Tao Zhao) and her boyfriend Bin (Fan Liao) stake their claim over their locale, until a moment of sacrifice puts Qiao behind bars. Bin abandons her; years later, she begins her search for her former lover and for a new sense of self, exploring the new world she finds herself in as she hustles her way across China (and, in some instances, is hustled in the process). Led be immensely pained performances from Tao and Fan, who carry the weight of guilt, betrayal and a rapidly changing society on their shoulders, the film brings in to focus the ways in which forces larger than ourselves end up molding our lives.
3. At Eternity's Gate (Julian Schnabel)
Julian Schnabel, director of The Diving Bell and the Butterfly, a film in which a singular perspective feels limited before eventually finding freedom, is the perfect person to tell this iteration of Vincent van Gogh's story. We see through the eyes of the tortured artist and hear through his ear(s). His vision is skewed, refracted in ways that make the bottom half of the frame feel immersed in water, like he's drowning in his own obsessive need to create. His aural reality is strung together from multiple, contrasting, overlapping takes, as if he can't even be certain of what's truly being said. Even more effective than the film's technical mastery however — including a fitting yellow tinge, making every frame feel sickly — is Schnabel's actor of choice. Willem Dafoe (The Last Temptation of Christ) is a storyteller as befitting of this tale as Schnabel himself, a tale that frames van Gogh the way van Gogh does Jesus: a man mocked for being ahead of his time. Alongside Rupert Friend as his brother Theo and Oscar Isaac as Paul Gauguin, Dafoe's van Gogh searches, desperately, for ways in which to share his visions of the world and its eternal secrets, in a film that could not be more uniquely conceived.
4. Cold War (Pawel Pawlikowski)
Singer Zula (Joanna Kulig) and pianist Wiktor (Tomasz Kot) find themselves, more often than not, trapped in the bottom half of Pawlikowski's 4:3 black & white frame. The two lovers, who steal moments in the shadows after years apart, are continually suppressed and separated by people and circumstances over the course of decades. Political unrest provides them safety only so long as their art — music, dance and folklore of the people — twists toward Stalinist propaganda. The film, running at a brisk hour and a half, skips over scenes of actual trauma inflicted on our protagonists. It leaves this violent backdrop to our imagination; discomfort sets in regardless, even and especially during romantic moments, depicted as details the characters try desperately to ignore. Zula and Wiktor age as the years pass, not only in body and attire, but in their very souls, becoming weighed down by political chess games they've been forced to become a part of as they try and re-capture a romance that may be forever lost.
5. The Favourite (Yorgos Lanthimos)
The Favourite dares you to take women seriously; it might sound like an odd, even insipid mission, but Yorgos Lanthimos makes it both timely and artful. Along with cinematographer Robbie Ryan, he creates distorted spaces within his posh, early 18th century locale as Queen Anne (Olivia Colman), her lover and advisor Sarah Churchill (Rachel Weisz) and recently hired housemaid Abigail Masham (Emma Stone) engage in a political, personal, wildly entertaining love triangle, beginning first as farce before moving slowly into tragic drama. The three leads astonish in their respective roles, beginning from a place of madcap frenzy (shot with lenses so wide they may as well be Fish-Eye) before their performances transition slowly toward subtlety and nuance, with the picture morphing into gorgeously lit portraits of each woman as they begin to bare their souls. (Nicholas Holt and Joe Alwyn are along for the ride too, helping make the film an absolute laugh riot in between its heart-wrenching moments)
6. Her Smell (Alex Ross Perry)
In just five scenes, about twenty to thirty minutes each, Alex Ross Perry paints a portrait of an entire life lived. Not the course of lifetime, mind you — the film chronicles five or six years at most — but the vital highs and lows of punk star Becky Something (Elizabeth Moss) and bandmates Marielle Hell (Agyness Deyn) and Ali van der Wolff (Gayle Rankin), as the aging Becky self-destructs in the face of new talent and attempts to find ways to rebuild. The film's snaking long-takes and harsh lighting create a lurid texture, helped along by a bold sound-mix that turns every drugged out, Shakespearean monologue by the impeccable Moss into a waking nightmare. That is, until both Becky and the film are forced to slow down and sit almost still, silently and in isolation, lest they destroy themselves. From then on out, it's as if the film itself is exercising caution before re-establishing what it is, as Becky attempts to find a new voice and build a career that has room for her daughter.
7. High-Life (Claire Denis)
High-Life is a haunting sci-fi drama about the loneliness of humanity, playing in a dramatic space often used to answer the question "What next?" Claire Denis however, isn't concerned with answering this external query about our collective fate; instead, she dives inward, balancing a fatalistic outlook with an intoxicating lust for life, or what remains of it. The film takes place on a lonely space-station, long after humanity's demise. Monte (Robert Pattinson) and his baby tumble through the empty cosmos, as he remembers — the film's memory scenes show up as disconnected flashes triggered by sensory input — both his time on Earth, before he and other felons like him were sent out into space as experiments, and his recent past, when he lived among this criminal community. Or, whatever one might call a group of prisoners subject to interstellar fertility experiments, led by a doctor with a God complex (Juliette Binoche), for whom the creation of life is intrinsically woven with an ethereal sexual energy despite a calculated, scientific approach. You may have already caught word of the film's "fuckBOX," the space-station's masturbation chamber; a ridiculous tidbit to be sure. However seeing it, or rather experiencing it as Binoche does, as moments of untamed bliss surrounded by death and infinite nothingness, is a life-giving experience.
8. Non-Fiction (Olivier Assayas)
The film's French title, Double vies (or Double Lives) hints not only at the many extra-marital affairs lurking beneath the film's surface — just assume everyone on screen is involved with everyone else — but at the duality of life lived in the digital age; its English title is equally fitting, though, given the constantly shifting truths and un-truths of our modern reality. One might call Non-Fiction a film about social media, though doing so might be a disservice to its cracking-smart screenplay, in which debates about the internet, changing reading habits and the ownership of stories in the Twitter age are had entirely through dialogue. Screens barely feature in the film at all. Instead, we're introduced to Olivier Assayas' Personal Shopper follow-up through the dueling perspectives of publisher Alain (Guillaume Canet), his actress wife Selena (Juliette Binoche), novelist Léonard (Vincent Macaigne), whom Alain spurns, and Léonard's imposing wife Valérie (Nora Hamzawi), a woman navigating the world of politics. As far as Assayas' explorations of modernity go, Non-Fiction may be his most entertaining, not to mentions as his biggest gut-punch if you happen to work in publishing.
9. Shoplifters (Hirokazu Kore-eda)
Opening with a father and son stealing groceries together, in a scene with the coordinated energy of a Hollywood heist, Shoplifters is a warm, tender and at times exciting drama about found family and collective survival that takes more than a few interesting turns. Kore-eda approaches the traditional understanding of family from an oblique vantage, focusing on a band of outcasts headed by a mischievous grandma (the late Kirin Kiki, in her final performance) who all come together as a "family" outside the bonds of both blood and legality. They steal in order to eat, but when they do eat, they dine together and exchange playful barbs, a welcoming camaraderie that extends to a little girl who they decide to rescue from an abusive household. Legally? It's kidnapping. Morally? Well, that's the question, isn't it?
10. The Wild Pear Tree (Nuri Bilge Ceylan)
Clocking in at three hours and change, The Wild Pear Tree takes a nuanced approach to the "angry young man" (Sinan, played by Ayd?n Do?u Demirkol), a writer and college graduate trying to figure out his worldview. It features some of the most exciting filmmaking of Ceylan's career, capturing the enormity of intimate realization as Sinan comes into contact with older writers and younger women and clerics attempting to answer questions of their own. The entire feel of the film shifts at times, often mid-scene, as Sinan attempts to craft a personal history while trying to break free from the shackles of history at large; he's trapped by the forces of both family and bureaucracy, but his rebellion is hardly righteous. Then again, the alternative is military service (the ultimate conformity), so he continues ploughing through the vast unknown that is his very self, for better and most definitely for worse, in a simple film that remains riveting for its entire runtime.
11. Wildlife (Paul Dano)
Directed by Paul Dano and co-written by his partner Zoe Kazan, Wildlife is an immense first feature that plays like an actor's dream. Set in Montana in the 1960s, Joe Brinson (Ed Oxenbould) watches helplessly as his parents' marriage falls apart. His father Jerry (Jake Gyllenhaal), too proud to be re-hired by the men who fired him, heads off to fight a nearby wildfire, leaving Joe and his mother Jeanette (Carey Mulligan), a woman who married too young, to figure out how to navigate their suddenly structure-less existence. As their lives unravel in unexpected ways, Joe is forced into adulthood sooner than he'd have liked, having to re-drawn the lines of his familial loyalties when his mother starts acting out. It's a coming-of-age story unlike any other, though what makes Wildlife such a scintillating watch is the ways in which Dano and editors Matt Hannam and Lou Ford hold on each and every close-up for just a hair longer than they ought to. They let their characters soak in their own discomfort, while the actors continue to search for answers beyond the instructions of the page.
Wildlife, like so many great films from this year's New York Film Festival, lives in the beats between dialogue, capturing something fundamentally human in the process. Unspoken stories that come to life between words. Moments that transcend the boundaries of language and help us understand who we are.