'Spider-Man: Into The Spider-Verse' Music Video Showcases Stunning Film Footage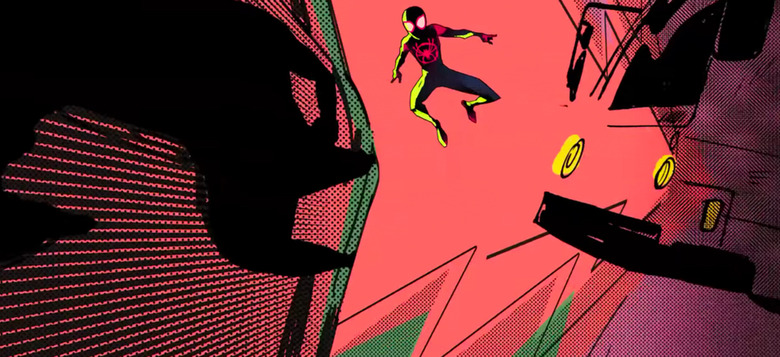 Spider-Man: Into the Spider-Verse is poised to be the most unique-looking Spider-Man film yet, featuring jaw-dropping, eye-popping animation that looks like a moving comic book. A new Into the Spider-Verse music video, from Post Malone and Swae Lee, showcases some of that incredible animation. I can take or leave the song itself, but the visuals are spectacular. Watch the Spider-Man: Into the Spider-Verse music video below.
Spider-Man: Into the Spider-Verse Music Video 
I have no idea who Post Malone is (I think he has tattoos on his face or something?), so the song here – titles "Sunflower" – doesn't hold much interest for me. It's not an altogether bad song – I wouldn't make a mad dash for the radio dial if it came on, at least. But the song is secondary, really. What I care about here is the footage, which continues to amaze.
When Into the Spider-Verse was first announced, I was skeptical. "Another new Spider-Man movie?" I said. "They just made one of those with Spider-Man: Homecoming." But the minute I started to see footage of the film, I was sold. This looks unlike any recent animated film I can think of, and that's exciting. The number one thing I want from movies these days – especially superhero movies, which are so abundant – is to show me something new.
In regards to the animation style, Chris Miller, one of the producers of the film, says the look of the film is "CGI animation that's treated with line work and painting and dots and all sorts of comic book techniques." The goal is to make the movie look as if it's a living painting – or a living comic book, if you will. The end result, as you can see above, is pretty damn great.
Into the Spider-Verse stars stars Shameik Moore as Miles Morales, one of many Spider-People drawn together from different universes. The rest of the cast includes Hailee Steinfeld, Mahershala Ali, Jake Johnson, Liev Schreiber, Brian Tyree Henry, Luna Lauren Velez, Lily Tomlin, John Mulaney and Nicolas Cage.Spider-Man: Into the Spider-Verse opens on December 14, 2018.
Phil Lord and Christopher Miller, the creative minds behind The Lego Movie and 21 Jump Street, bring their unique talents to a fresh vision of a different Spider-Man Universe, with a groundbreaking visual style that's the first of its kind. Spider-Man: Into the Spider-Verse introduces Brooklyn teen Miles Morales, and the limitless possibilities of the Spider-Verse, where more than one can wear the mask.