'It Takes Two': The Property Brothers Are Getting Their Own Scripted Comedy Series At Fox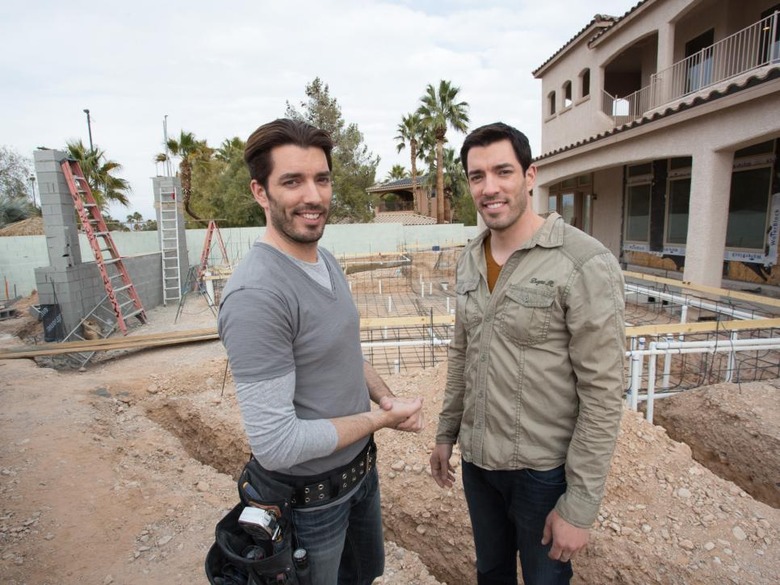 Fox is about to get a home makeover. The network has started developing a scripted comedy series based on the lives of HGTV stars Jonathan and Drew Scott, AKA The Property Brothers. That's right, they're making a Property Brothers scripted series. Now that's an open concept.
HGTV's favorite non-threateningly handsome sons will soon be the stars of a scripted comedy series. Variety reports the series will be called It Takes Two, based on the brothers' memoir of the same name, and will follow "two entrepreneurial twin brothers who decide to join forces in the real estate business when they realize they are stronger together than apart."
The brothers rose to prominence as the stars of the hit HGTV TV series Property Brothers, which launched them to household name status and spawned several spin-offs like Brother vs. Brother and Property Brothers: At Home. Property Brothers follows the identical twin brothers as they help families find, buy, and renovate "fixer uppers" each episode — Drew is the real estate expert who finds the houses, while Jonathan is the contractor (and an illusionist on the side) who renovates them. The warm-hearted show's simple premise and the brothers' sunny charms helped make the series an HGTV hit, and one of the best (if not the best — fight me) shows on the network.
Fox has given the project a script commitment to the single-camera comedy, which will follow the identical twins as they combine their contracting and real estate skills to create the hit show. Another brotherly duo Jon and Josh Silberman (It's Always Sunny in Philadelphia and the upcoming Wile E. Coyote movie) are set to write the series, as well as executive produce alongside Kim and Eric Tannenbaum of the Tannenbaum Company, and Austin Winsberg. Jason Wang will also co-executive produce.
I love watching the Property Brothers whenever I randomly stumble upon HGTV, even if I'm positive that they were cloned in a lab as the ideal non-threatening, home renovating male idols. They're sweet, charming, and feel like a throwback to the benevolent days of old HGTV, now that Hilary and David's squabbling grows increasingly tiresome on Love It or List It. And I would watch fictionalized versions of them, especially if it's told from the point of view of the less famous Property-less third brother, JD.
You can watch episodes of Property Brothers now on Hulu.