'Spider-Man: Far From Home' Wraps With Image Offering Best Look Yet At New Spidey Costume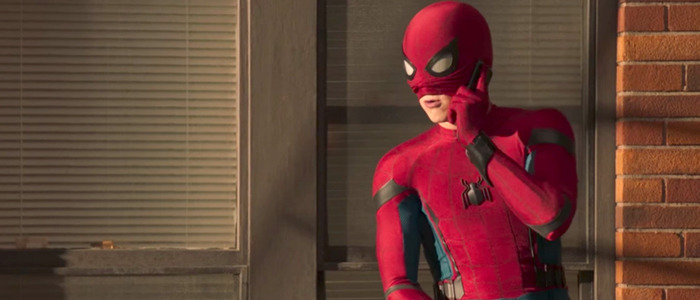 The stars of Spider-Man: Far From Home are coming home. The Spider-Man: Homecoming sequel has officially wrapped filming, and star Tom Holland commemorated the day with a new image that gives us our best look at the new Spidey suit yet.
Tom Holland's second Spider-Man solo film has officially wrapped production in Spidey's hometown of New York City, after recently wrapping its European leg with shoots in Venice, Prague, and London. Through that long and exciting production (especially exciting for fans who were unsure of the web-crawler's return after his supposed "dusting" at the end of Avengers: Infinity War), we've seen hurried glimpses and low-res shots of Holland's new Spider-Man suit. But now, thanks to a new image from Holland's Instagram account, we get a full shot of the new Spidey suit.
Holland posted the picture to mark the end of filming for Spider-Man: Far From Home. The image shows him alongside Zendaya's Michelle, AKA MJ, who hopefully plays a bigger part in the sequel. But that's not the big draw of this photo — it's seeing the new Spider-Man suit in its full glory.
We noted before that the new Spider-Man suit seemed more like a return to the classic comic book style rather than a sleek hi-tech black suit, and this Spider-Man: Far From Home image seems to confirm that. Like the classic Steve Ditko design, this Spider-Man suit isn't fully black, but a dark Navy blue, with the small black spider emblem on his chest now sporting a white outline. I'm guessing on the big screen we'll see a more complex blue color than in set photos or even this high-def photo posted by Holland here.
Jon Watts returns to direct Spider-Man: Far From Home, which also stars Michael Keaton, Samuel L. Jackson, Cobie Smulders, Jake Gyllenhaal, and Jacob Batalon.Spider-Man: Far From Home is set to swing into theaters on July 5, 2019.