'American Gods' Could Eventually Reach Neil Gaiman's Unpublished Sequel Novel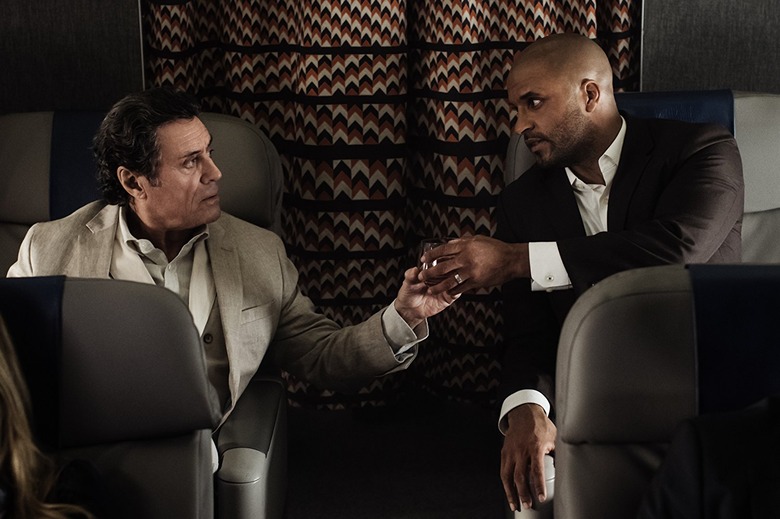 Although American Gods has been plagued by behind-the-scenes issues, Neil Gaiman has divine hopes for the Starz series. The author teased that American Gods could run long enough to adapt his yet-unpublished sequel novel — if he finishes it by then.
Neil Gaiman has been knocking around ideas for an American Gods sequel novel for years, first announcing in 2011 that he was planning to write a direct sequel expanding on the elements introduced in his 2001 magnum opus. And the author told ScreenRant at this year's New York Comic Con that if Starz renews American Gods through season 6, we could finally see that unpublished sequel on the screen:
"If we make it through 5 seasons and we get to finish the book, and then we've done the stories of Shadow in the UK, I can get to roll up my sleeves and do the story of Shadow's return to the US. But that's a long way down the line."
To say that Gaiman is getting a little ahead of himself might be an understatement. Though American Gods premiered last year to critical acclaim, the series has met several road bumps, some of which reportedly stemmed from the author himself.
The series is currently without a showrunner after Jesse Alexander was fired from the Starz series. Alexander was initially brought in to replace previously fired showunners Michael Green and Bryan Fuller, whose bold and divisive vision for the series reportedly clashed with Gaiman's. Producing director Chris Byrne and line producer Lisa Kussner remain in charge of the series, which continues to lose major cast members (many of them loyal to Fuller and Green) like Gillian Anderson and most recently, Kristen Chenoweth.
At this point, it's hard to imagine that American Gods will receive a third season, much less four more seasons. But perhaps this is Gaiman's ploy to Starz — renew my show, and you'll get first look at my unpublished book. But while I would be eager to read the American Gods sequel, I'm not sure if I would be just as excited to see it on the big screen with the haphazard creative team that the Starz series has now. Just focus on writing the book, Neil.
Still, American Gods charges on, with its long-awaited second season set to premiere on Starz in 2019.