This 'Bohemian Rhapsody' Clip Wants To Rock You, Should You Be So Inclined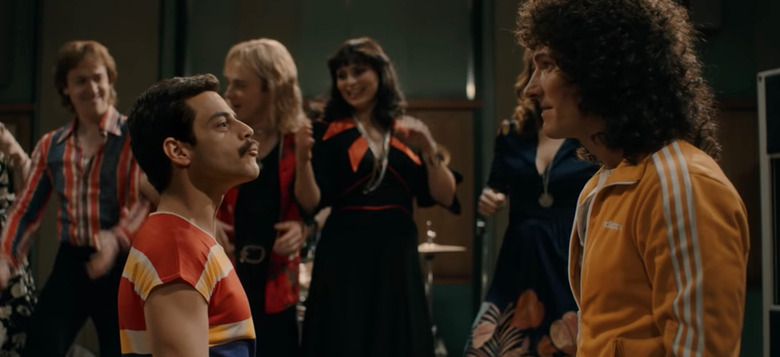 A new Bohemian Rhapsody clip is ready to rock you – if that's something you're in the mood for. Here we get to watch Freddie Mercury and that gang come up with the now-iconic beat from "We Will Rock You", blissfully unaware that some day, the song in question would be played during every single sporting event. Watch the Bohemian Rhapsody clip below!
Bohemian Rhapsody Clip
In this Bohemian Rhapsody clip, we get to witness the origins of "We Will Rock You", one of Queen's most famous songs. The song was written by lead guitarist Brian May, played here by Gwilym Lee. According to the real Brian May, the song – which is almost entirely a cappella – was inspired by an event during Queen's 1977 A Day at the Races Tour. After the band had walked off stage, the audience broke into spontaneous song, and the sound of chanting would go on to influence "We Will Rock You." As May put it:
"We did an encore and then went off, and instead of just keeping clapping, they sang "You'll Never Walk Alone" to us, and we were just completely knocked out and taken aback – it was quite an emotional experience really, and I think these chant things are in some way connected with that."
I haven't seen Bohemian Rhapsody yet, so there's a good chance it'll turn out well. However, every trailer and clip from the Freddie Mercury biopic throws off a serious Walk Hard vibe. Every musician movie cliche in the book is on display here, and frankly, that's a bit boring. Why not try something new? Something exciting? Something innovative? This clip in particular reminds me of the following Walk Hard scene:
All that said, I'm sure that even if Bohemian Rhapsody turns out to be a bust, Rami Malek's performance as Freddie Mercury will be memorable. Malek is a wonderful actor, and it looks as if he's fully inhabited the role here.
Bohemian Rhapsody opens on November 2, 2018.
Bohemian Rhapsody is a foot-stomping celebration of Queen, their music and their extraordinary lead singer Freddie Mercury. Freddie defied stereotypes and shattered convention to become one of the most beloved entertainers on the planet. The film traces the meteoric rise of the band through their iconic songs and revolutionary sound. They reach unparalleled success, but in an unexpected turn Freddie, surrounded by darker influences, shuns Queen in pursuit of his solo career. Having suffered greatly without the collaboration of Queen, Freddie manages to reunite with his bandmates just in time for Live Aid. While bravely facing a recent AIDS diagnosis, Freddie leads the band in one of the greatest performances in the history of rock music. Queen cements a legacy that continues to inspire outsiders, dreamers and music lovers to this day.