'Child's Play' Creator Teases New Details For TV Series, Which Takes Place After 'Cult Of Chucky'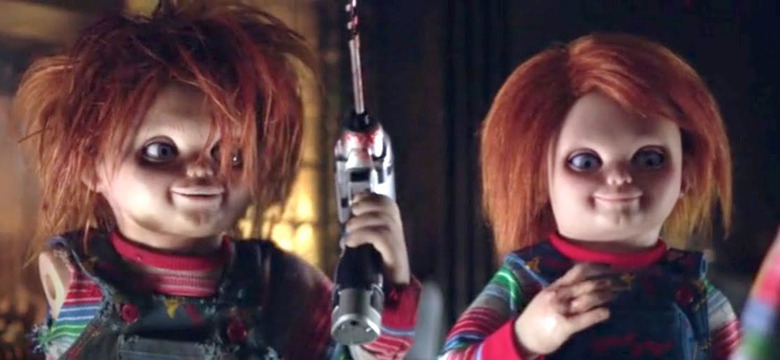 While a Child's Play remake is coming together over at MGM, the franchise's creator Don Mancini is hard at work on a TV series that will follow the events of the most recent horror comedy installment, Cult of Chucky. Speaking at 2018 Screamfest, Mancini offered up some new details about the series. However, in order to dive into them, we have to talk about some spoilers for the aforementioned Chucky sequel.
Before we get into the Child's Play TV series details, let's talk about the end of Cult of Chucky.
Cult of Chucky introduced the ability for Chucky (Brad Dourif) to possess multiple dolls at the same time, not to mention taking over the body of Nica (Fiona Dourif). The movie ends with Nica (possessed by Chucky) leaving with Tiffany (Jennifer Tilly), though she may also be in actor Jennifer Tilly's body from Seed of Chucky as well. Finally, Andy Barclay is left behind in a mental institution, but his foster sister Kyle from the second Child's Play movie goes to Andy's house, sent there to torture the severed head of the original Chucky.
Yeah, there's a lot going on in the Child's Play series now, but that's exactly how Don Mancini wanted things set up for the TV series. He explained to the Screamfest 2018 audience (via BloodyDisgusting):
"We deliberately ended Cult with a bunch of cliffhangers to set up a TV series. Because there are so many different threads now, television could best accommodate that so that was done intentionally. At the same time, we have a whole new world, a bunch of new characters which we can say nothing about."
Since there are new characters, that probably explains what producer and Chucky/Tiffany designer David Kirschner means when he added, "The only thing I think we can say is from the original film that Don wrote, Child's Play, we are playing with that concept again, the idea of child's play. I'll let you guys fill in the pieces of that." Since Mancini also added that the new series "involves children," I think we can all assume what that means.
Mancini is eager to move the franchise into television, saying, "So this time not by merely changing genre but by changing medium. This will give us a different kind of canvas, a much bigger canvas to explore characters and relationships."
The Child's Play series has gotten quite crazy over the years, but fans still seem to be enjoying it. Whether the world of Child's Play can sustain itself for a TV series remains to be seen. But at the very least, this sounds more interesting than the Child's Play remake on the way.