'Counterpart' Season 2 Trailer: J.K. Simmons Battles Himself In Starz's Acclaimed Spy Series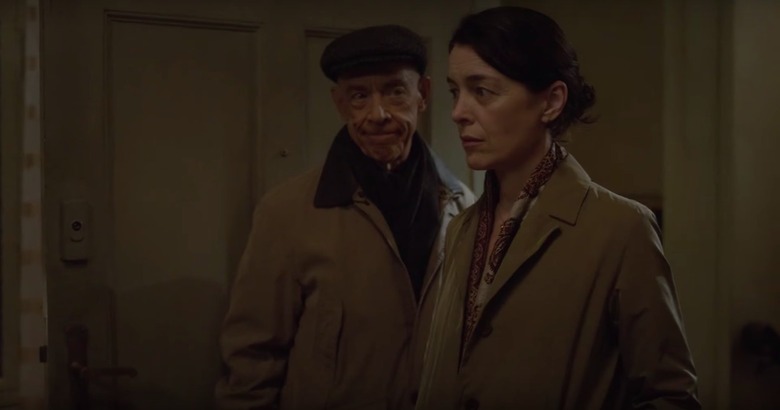 In the era of Peak TV, it's hard to differentiate one mildly successful prestige show from the rest. So it's a good thing that Counterpart, the Starz sci-fi spy thriller, has two versions of J.K. Simmons.
The Starz series, which has been proclaimed by critics as one of the best new series of 2018 is returning...in 2018. Hey, if it ain't broke, don't fix it, and if you got a whole new slew of episodes ready to be released, have at 'em. The Counterpart season 2 trailer advertises the remarkably fast sophomore season of the show, which sees Simmons' titular counterparts deal with the choices they've made.
Counterpart Season 2 Trailer
Counterpart is a sci-fi series that gives the espionage thriller an alternate twist. But the second season notches up the conflict as Simmons' two Howard Silks find themselves trapped in each other's worlds. The first season introduced us to the mild-mannered Howard Silk, a low-level agent at a Berlin-based United Nations spy agency who unwittingly learns of a gateway to a parallel dimension. Upon stumbling into this alternate world, he meets his counterpart — a skilled clandestine agent for at the Office of Interchange in what the show calls the Prime world.
Now season 2 follows the two men as they examine their divergent life choices and acclimate to each others' worlds. With Howard Alpha locked in prison and Howard Prime settling into the life of Alpha, it all feels very Fringe season 3 — which is promising for both the show and Simmons, who gets two complex roles to chew on in the critically acclaimed Starz series.
Counterpart also stars Olivia Williams, Harry Lloyd, Nazanin Boniadi, Sara Serraiocco, Nicholas Pinnock and Betty Gabriel.
Here is the official season 2 synopsis for Counterpart:
At The Office of Interchange, those who have high enough access safeguard a crossing into a parallel dimension not unlike our own. And if their world is like ours, who are we over there? Are we better? Are we different? Season Two finds Howard (J.K. Simmons) and his counterpart living out these questions. With the Crossing closed and each of them stranded in the other's world, they have to adapt for survival. Howard Prime takes on his other's life: going to his job, living in his home... with his wife. Howard Alpha is locked in a mysterious black site known as Echo, cut off from everyone he knows. As a cold war escalates between worlds deepening a fickle divide, both men find themselves growing increasingly like their other.
Counterpart Season 2 returns to STARZ on Sunday, December 9, 2018.